PrideTV Highlight: Sexual Tension: Volatile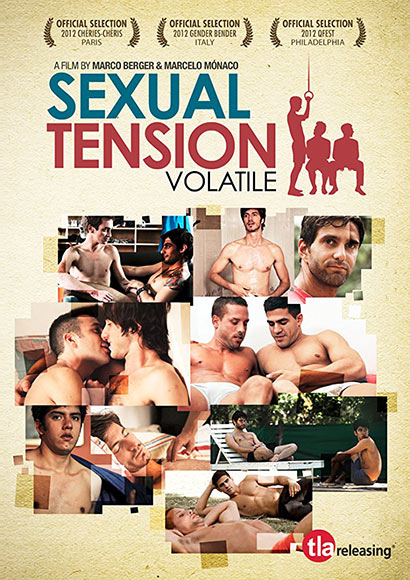 Six Spanish-language short films have been packaged together as the Sexual Tension: Volatile series, now on PrideTV.
This collection of stories has been making waves, both in critics' circles and amongst the LGBTQI viewing public. A number of awards have been received by this work by writer and director, Argentinian native Marcelo Mónaco, who set the films in that South American country.
Accolades received by the series to date include being included in the Official Selection for the 2012 'Gender Bender' film festival in Italy, as well as in the Official Selection of Philadelphia's QFest during the same year. In addition, 94% of Google viewers rated Sexual Tension: Volatile positively.
This collection, centering on the theme of intimacy between men, is now available to PrideTV's video-on-demand (VOD) viewers.
Sexual Tension: Volatile has been described as 'a sexually-charged thrill ride' and that becomes very clear from the outset as the viewer doesn't have to wait long before the action begins. Fast-moving storylines fit in perfectly with the VOD viewing experience.
The six, brief stories that comprise Sexual Tension: Volatile unashamedly showcase a series of beautiful men who play the leading roles in these erotic vignettes. The golden thread running through the whole series is that chance encounters between men can lead to erotic tensions.
Each Sexual Tension: Volatile episode follows the same formula of one guy being attracted to another and trying his utmost to try and take things further, with the ultimate consent of his would-be sexual partner. For one reason or another, the desired penultimate act doesn't always take place. We think this adds some interest as it helps eliminate some of this series' formula-based approach. There is a welcome higher level here, with bigger issues at play, as the viewer becomes keenly-aware of the problem of homophobia in Argentina.
There is plenty of voyeurism here with cameras losing interest in the heads of the characters and focusing exclusively on more intimate areas, and at least two of the shorts play on the stereotype of a gay guy pursuing a straight guy.
The storylines are fairly straightforward, and that's great. We don't always want to be intellectually-challenged. One has to do with an individual pursuing his hunky tattoo artist. Another sees two young guys, Kevin and Tony, as (straight) friends moving furniture who then develop a closeness that is at odds with their sexuality, but perhaps not at odds with their overarching friendship.
The entire Sexual Tension: Volatile series can be immediately streamed direct from www.PrideTV.co.za. Enjoy this ad-free, erotic treat from Africa's LGBTQI VOD leader! Watch the trailer here.