PrideTV Highlight: Elliot Loves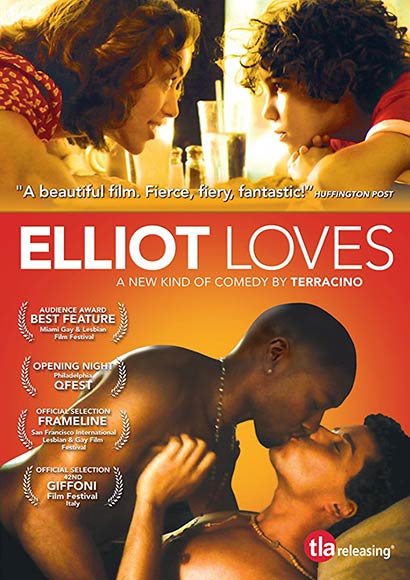 New York City's Dominican-American community is the setting for Terracino's Elliot Loves, that's available for streaming from PrideTV.
A multiple award winner, accolades bestowed on Elliot Loves include an Audience Award for Best Feature at the Miami Gay & Lesbian Film Festival, being amongst the Opening Night films at the Philadelphia QFest, included in the Official Selection of the Frameline San Francisco International Lesbian & Gay Film Festival and in the Official Selection of the 42nd Giffoni Film Festival in Italy.
A key moment in this sweet and unusual story that speaks to current issues across all sexual orientations is when 9-year-old Elliot (Quentin Araujo) witnesses his mother (Elena Goode) being hit by her abusive boyfriend. This is then juxtaposed with a future moment when an older Elliot himself hits an unfaithful boyfriend.
There are so many layers here. As Elliot moves from boyfriend to boyfriend, smitten by a long line of pretty faces, the viewer is left in an unsettled state – is Elliot worthy of our sympathy or condemnation? Is he cute, needy, or abusive?
Especially interesting is the further aspect that Elliot Loves is interwoven throughout with comedy, or rather, quirky humour. This is intelligent storytelling by a brilliant director who knows his demanding audience and our quest for something different. Elliot too, is on a quest, and the title gives that away – Elliot is learning to love.
There are the usual stereotypes that help in the storytelling, like the flighty single mom, the outspoken aunt and the attractive cheating boyfriend, but they are not overdone. That leaves a smart and sassy film.
You'll enjoy this movie if you like directors using different techniques to tell a story. Terracino doesn't limit himself to past / future sequences, there is even an animation to convey an action scene. And we also have Elliot addressing the camera directly. All of this works.
Elliot Loves has been boxed as a 'gay Latino coming-of-age story' when it's so much more than that. It's a sensory and intellectual feast that certainly deserves Rotten Tomatoes calling Elliot Loves a "terrific example of the best in micro-budget filmmaking". Finally, IMDb asks "why can't Hollywood make more beautiful gay films like Elliot Loves?"
Elliot Loves can now be streamed direct from www.PrideTV.co.za. Enjoy this ad-free treat from Africa's LGBTQI VOD leader! Watch the trailer here.