PrideTV Highlight: Fairytale of Kathmandu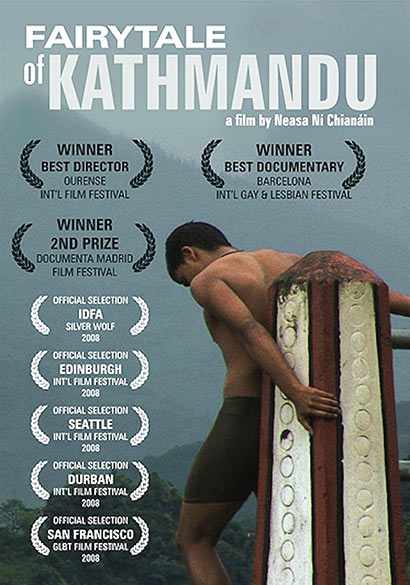 Fairytale of Kathmandu is an acclaimed and controversial documentary about Irish poet Cathal Ó Searcaigh and his close relationships with teenage boys in Nepal.
Now on PrideTV, it is an outstanding work addressing issues highly relevant to our community and has been recognised as such with a plethora of awards.
These include Winner: Best Director, Ourense International Film Festival, Winner: Best Documentary, Barcelona International Gay & Lesbian Festival and Winner: Second Prize, Documenta Madrid Film Festival.
Furthermore, this film by Neasa Ní Chianáin has been included in the Official Selection of no less than five world film festivals. These include the IDFA Silver Wolf festival and similar celebrations of film in the cities of Edinburgh Seattle, San Francisco and Durban.
Ní Chianáin is an Irish documentary filmmaker with a pedigree that includes the celebrated 2016 film In Loco Parentis/School Life which premiered at the IDFA and Sundance Film Festivals. It is no surprise then that she adds Fairytale of Kathmandu to her impressive body of work. Highly rated, Fairytale will appeal to the more cerebral of video-on-demand viewers.
Briefly, the documentary centres on visits by the poet Cathal Ó Searcaigh to Nepal during which he had close relationships with many young boys. (It is claimed all of them were 16 years or older and thus techincally legal in the country.) This Irish poet mentions on camera that he had sex with some of them and generally denies that he abused them or that he coerced them into having sex with him.
The film demands your focused attention. This is mostly because some uncomfortable issues are raised, questions of power and abuse are posed, and generally, the viewer has to examine his or her own constructs of right and wrong.
The documentary questions whether Ó Searcaigh's relationships with these youths were exploitative and whether they demonstrated a power and wealth imbalance. Ó Searcaigh is in his 50s and clearly from the developed world whereas the Nepalese are obviously young and poor. Ó Searcaigh is presented in the documentary as paying for the housing, food, bicycles and clothing of boys.
Some viewers will no doubt see his gifts in charitable terms, others will say they are favours in return for sex. What you say, will be up to you, but watch this documentary in its entirety before coming to your own conclusions.
Fairytale of Kathmandu can now immediately be streamed direct from www.PrideTV.co.za. Enjoy this ad-free documentary from Africa's LGBTQI video on demand leader! Watch the trailer here.