PrideTV: Writer and Director Michael Simon on making The Love Patient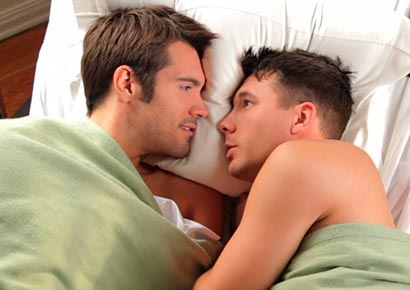 Cancer's no laughing matter. And yet, in PrideTV's The Love Patient, the plot not only centres on a man using the dreaded 'C' word to win back a former love interest, but is a comedy to boot!
This LGBTQI-themed film from writer and director Michael Simon features Paul (Benjamin Lutz) and Brad (John Werskey) in the starring roles, with an errant doctor on the skids in the form of Burt Halper (Mike Pfaff) as the medic who falsely diagnoses Paul with cancer in order to win back Brad.
Brad is forced to care for Paul who hopes all the resultant health-related intimacy will boost his chances of winning back his former love.
But, as they say in the classics, that's not all! The Love Patient also has a bisexual current boyfriend of Brad, called Ted, who is seduced by Brad's sister into revealing the uncomfortable truth. She eventually spills the beans about Paul's 'fake' cancer. Oh, and did we mention Paul's mom – no? Well, Paul's mother dearest makes an appearance too. We're not sure if that's for added comic relief.
Alright then. So you have the plot of The Love Patient, in a nutshell. Now, we just had to learn more about the gifted creator who came up with this jam-filled plot.
Writer, director and producer Michael Simon is a prolific creative talent, having brought us The Love Patient, Boys on Film 1: Hard Love and Gay Zombie. We should add that Michael's list of movie credits also includes quite a number of modest roles as an actor in many of the movies he directs, so this guy really knows his film stuff!
In a recent interview, Michael describes himself as an 'indie filmmaker' and reveals that The Love Patient was made on a shoestring budget; angel investors being hard to come by, presumably when you're making a gay flick about fake cancer.
Still, at PrideTV we think that the end result looks fabulous. This is one slick LGBTQI flick and it shows: The Love Patient managed to get into several major film festivals, premiering at Philly QFest. That's no mean feat, especially when one considers the move was Michael's first try at directing a feature-length movie.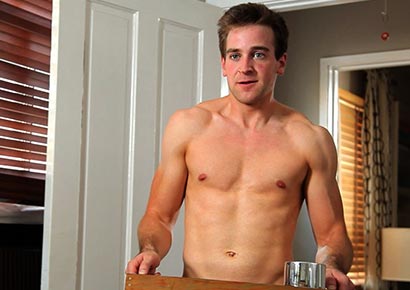 Michael says he enjoys "making inexpensive films that look great". When it comes to keeping budgets in check, he is clearly the undisputed king. "On The Love Patient," he says, "We spent ZERO on locations for the entire film. We also spent zero on rentals, zero on hair, make-up and wardrobe. We didn't spend one dollar for parking." Wow, that's an achievement that's worth remembering when it comes to getting local, low budget LGBTQI flicks off the ground.
The trick, according to Michael, is to write movies that revolve around locations one can secure for free. Another great hint for people working in the LGBTQI genre is to make sure "the audience relates to your material".
Interestingly, Michael adds in the interview that one should not "underestimate the importance of VOD (video on demand) streaming" – amen to that! He states what we should all be realising this late in the game: "There is more VOD going on than DVD."
With that final thought, remember, The Love Patient is available for streaming – on VOD in South Africa – right now, on PrideTV!