PrideTV Highlight: Out in the Silence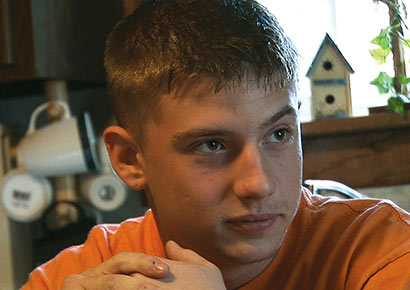 Out in the Silence tackles homophobia in America's rural towns head-on, and it's available to watch free on PrideTV's 'Freemium' portal.
There's a degree of bravery here that makes one want to stand up and applaud during the viewing of this 60-plus minute documentary by directors Dean Hamer and Joe Wilson.
Essentially, CJ Springer, a bullied gay teen in the high school where one of the directors grew up, asks for his help. This comes after the filmmaker's own marriage to another man caused a stir in the same town.
When Wilson and his partner are drawn back to the conservative rural community of Oil City, Pennsylvania, where their same-sex wedding announcement had previously sparked a controversy, a chain of events are ignited.
This sees widely varying, emotional reactions from the town's residents including the teenager and his mother, Kathy, the head of the local chapter of the American Family Association, and an evangelical pastor and his wife.
With a cast including, of course, the directors themselves, as well as CJ and Kathy, this is very much a family affair. In fact, family relations are central to the telling of this documentary story.
We like Out in the Silence because Hamer and Wilson have used the film as but one tool to get their equality message across. We think it's refreshing that the documentary is not the only facet of the storytelling by the LGBTQI duo.
To illustrate, the 'Out in the Silence Campaign for Fairness and Equality in Rural and Small Town America' "uses the film as a tool to raise the visibility of lesbian, gay, bisexual and transgender + people and promote dialogue and bridge building."
Out in the Silence can be streamed right now direct from www.PrideTV.co.za. Enjoy this ad-free feast from Africa's LGBTQI VOD leader!