PrideTV Highlight: Bandaged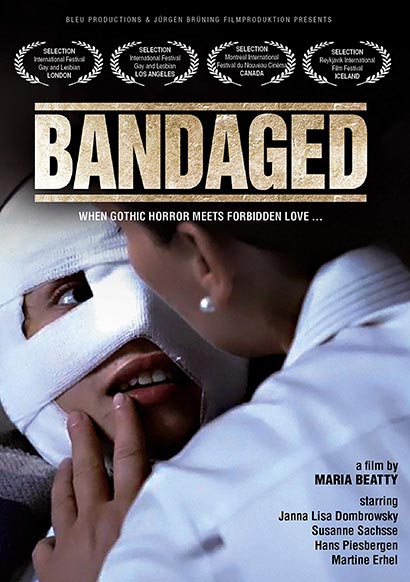 Bandaged is one interesting movie from PrideTV. Not only does it have an especially intriguing movie poster, the plot is totally unique.
That's most welcome in both a mainstream and LGBTQI movie-making landscape, mostly littered with one-dimensional, less-than-satisfying 'McMovies'; all clones of one another.
Variously described as "beautifully-filmed" and "very well-written" with "excellent acting" from the entire cast, the viewer's hopes are set high on this unusual flick. Director Maria Beatty doesn't disappoint. This is impressive, considering the intricate tale she has to vividly bring to life.
The "horror meets forbidden love" story centres around a father's desire to bring back the image of his deceased wife using his own daughter as a living canvas.
Since his wife's passing, the peculiar surgeon Arthur has cloistered his young daughter inside a strange and imposing old mansion.
Lucille desperately wants out, even through her own destruction, and tries to commit suicide. Unfortunately, she is badly burnt in the unsuccessful suicide attempt and her offbeat – to say the least – dad, decides this is his chance to recreate a passable image of his dead wife.
He hires nursing assistant Joan to take care of his daughter while he embarks on a series of skin grafts designed to give effect to his late wife's visage. Now this alone would be an awesome movie plot. However, Beatty goes a step further as nurse Joan – with her own sombre past – starts falling for her charge and the two begin a forbidden and passionate love affair.
Whether or not dad achieves his mad plan to recreate his dead wife and just how the affair between Joan and Lucille will turn out, that you'll only know by streaming this refreshingly unusual movie.
Bandaged can be streamed right now direct from www.PrideTV.co.za. Enjoy this ad-free feast from Africa's LGBTQI VOD leader!