PrideTV Highlight: The Stranger In Us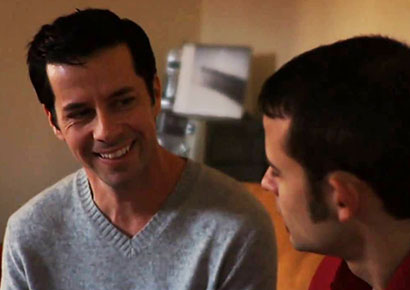 The Stranger In Us, now on PrideTV, explores that other person in us who comes out during times of stress, hardship, turmoil and so on.
The film introduces small-town boy, Anthony, that other person dwelling within, when he follows his heart to San Francisco, eager for domestic bliss with a new boyfriend, Stephen.
It's following this sweetest and most wholesome of motives when Anthony is confronted with the grittier side of the City by the Bay after his new-found romance quickly sours.
Writer and director Scott Boswell allows Anthony to plumb the depths of his darkening soul as isolation and financial hardship bite as a consequence of the rapid downward spiral of his romance.
Day after day of navigating a toxic relationship sees Anthony take to the night time streets to try save what's left of his sanity. It's here where lead actor Raphael Barker meets a retinue of peculiar yet interesting characters pivoting around a young street hustler named Gavin.
Anthony finds the sincere, almost affectionate, human contact he craves. Sadly, his inner struggles continue to engulf him and we'll leave it here for you to find out if our protagonist emerges sane, fulfilled and ultimately victorious in this struggle against himself.
Described as 'gripping viewers with its heartfelt performances' and 'intimate perspective', The Stranger In Us will leave most of us reaching out to Anthony and even feeling deeply concerned for his well-being. It's that kind of film.
Amazingly, Boswell reveals that the original script came in at scarcely 100 plus pages, which just goes to show that quality really does trump quantity.
The Stranger In Us can now be streamed directly from Pridetv.co.za. Enjoy this ad-free feast from Africa's LGBTQI VOD leader!