PrideTV Highlight: Isle of Lesbos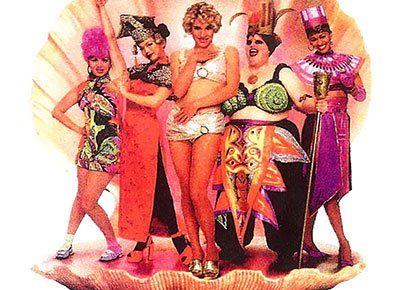 Isle of Lesbos is not what you think it is! This offering served up by Africa's LGBTQI video-on-demand (VOD) leader, PrideTV, is neither hard-core not travel-related. It is, however, a supremely funny comedy set in a different time and place where lesbians rule the world. Wow. That's a universe we want to see!
Directed by Jeff B. Harmon, Isle of Lesbos is today as fresh and quirky as it was in 1997. Variety described this landmark comedy as having elements of the The Rocky Horror Picture Show put together in "a high-spirited… old-style Technicolor musical that plays like a gay Mardi Gras outing." That line alone should be enough to pique viewer interest – it certainly did ours.
Another reviewing platform, Swampflix, says this movie is "deliverable offensive" and displays deep roots in the "drag and cabaret tradition". Things are getting even more interesting! What we found especially interesting is that this 1940's Technicolor-style fantasy with a modern and subversive twist boasts a total of 15 original songs. That's fairly-impressive for the low-budget, yet creative, indie movie that it is.
In a nutshell, the movie features two worlds – one a small-minded, one-horse town, and the other, the Isle of Lesbos, where lesbians rule and there's quite a bit of cavorting going on, and certainly no rest on Sundays. Watch it. It was deemed offensive in the late 90s. Now, it's just light-hearted fun.
Isle of Lesbos can now be streamed right now direct from www.PrideTV.co.za. Enjoy this ad-free feast from Africa's LGBTQI VOD leader!