PrideTV highlight: The Throwaways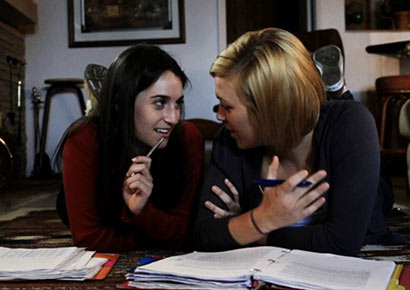 This series from Africa's LGBTQI video-on-demand (VOD) streaming leader, PrideTV, just goes to show that – very often – coming out is not an episode of Modern Family.
For the vast majority of LGBTQI human beings, coming out is painful and fraught with ups and downs. The Throwaways really hammers home this last point using the example of one newly-out unfortunate teen, Olivia.
When our LGTBQI protagonist comes out, she soon loses her family, her home and her future in one fell swoop. Not exactly coming out as portrayed in the pop media, is it?
Sadly, this is reality for so many of us, and director Jessica King really outdoes herself as she showcases the tenuous and fragile nature of LGBTQI acceptance; outside of popular culture and social media.
We should rewind a little and focus briefly on the nature of Olivia's coming-out. On paper, Olivia is every parent's dream. The blonde, blue-eyed 17-year-old studies hard, goes to church and obeys curfew. She's never gotten drunk and never failed a test. Unfortunately, her life goes awry when her mother walks in on Olivia and her 'study buddy' engaged in decidedly non-studious activities on her bedroom floor.
Lead Olivia, played by Ashley Andersen, faces a monumental struggle throughout this series as she embarks on a quest to simply find a safe place and be herself following this accidental coming out.
As many of us know, this most basic of foundations is denied to a sizable portion of our population. Fortunately, when society fails, friends often rally round. Olivia, fortunately, finds comfort, acceptance and passable safety from a group of resilient lesbian misfits.
King really took on a challenging project with this one as The Throwaways goes well beyond the leading LGBTQI issues of the day. She addresses homelessness, teen angst and a range of other issues, all framed within this lesbian-themed web series.
The Throwaways can be streamed right now direct from www.pridetv.co.za, Africa's LGBTQI VOD leader!