PrideTV highlight: Naked As We Came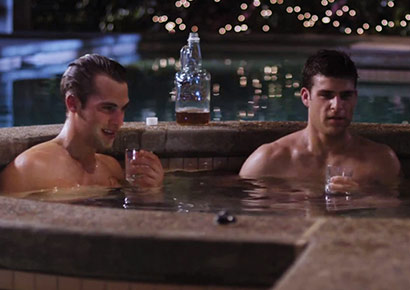 Naked As We Came is a thoughtful and sensitive family drama that can be viewed free right now on PrideTV. 
It's a previous winner at the Long Island LGBT Film Festival, an Audience Award winner at Cinema Diverse in Palm Springs and a Festival Favorite winner at Philly QFest, amongst many other impressive accolades.
It really is quite something then, that PrideTV is able to offer this much-awarded title within its stable of Freemium video-on-demand (VOD) movies. And yet, here we have this film from director Richard LeMay and starring Benjamin Weaver, Karmine Alers, Lue McWilliams, and Ryan Vigilant, ready for you to stream – free – at your convenience!
While the title is somewhat salacious, to say the least, the plot emerges as unexpectedly thoughtful as love, loss and hope are tumultuously explored amidst a tranquil backdrop. The viewer is asked to ponder the question: what is your dream?
This question sets the mood for the film which is well-suited to those of us who like their movies 'melancholic' and 'melodramatic', says one reviewer. Our own view is that you have to be in a certain thoughtful mood to fully appreciate the larger than life issues masterfully tackled by this director.
"One needs to be properly armed", writes another reviewer, to handle the fairly loud and over-the-top dialogue in this family drama. There certainly are issues in this family, and they may even leave you in tears, but angst is the name of the game in this film, and viewers in a certain mood will really take to Naked As We Came.
Briefly, the plot is as follows: Elliot and Laura (Ryan Vigilant and Karmine Alers) are hardly model children. They run the family laundry business in New York City like dutiful offspring, but they bear so much resentment toward their deceased father for saddling them with this responsibility and towards their mother for, well, just being a bad mother.
Add the fact that bad mom has just days to live, throw in a strange house-guest, and you can almost imagine.
Naked As We Came can be streamed right now. direct from www.pridetv.co.za. Enjoy this ad-free feast from Africa's LGBTQI VOD leader!