PrideTV highlight: Monster Pies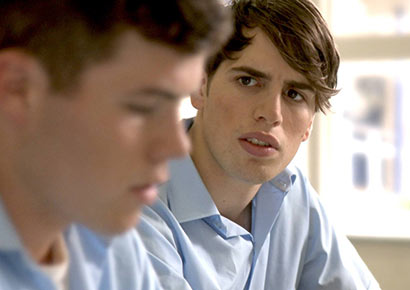 With Halloween now clearly over, readers may be wondering what a title like Monster Pies is doing amongst our highlighted repertoire of PrideTV streaming movies.
Well, this is no scary movie. In fact, it's about love. Surprised? We were, too, when we first glanced at the movie poster for Monster Pies.
In a nutshell, this unique plot revolves around a high school horror movie remake of the bard's classic tale: Shakespeare's Romeo and Juliet.
Intrigued? Mike's English teacher pairs him up for a class assignment with hot new kid, William. At first, Mike is dazzled by his new friend's good looks and can't believe his luck.
However, infatuation soon turns to something deeper as the two spend more time together.
Mike's feelings are returned and the two soon realise their mutual feelings for each other may be much more than either is ready for, during this tender phase in their lives.
Director Lee Galea has produced a film that will stay with you for a long time indeed. This is an independent Australian production which means it has that usual indie, rough around the edges feel, however, there's a powerful connection between the two lead characters that packs an emotional punch. It's a wonderful movie, inspiring and thought-provoking.
This is a touching and definitely original take on the power of first love. As one reviewer wrote, perfectly hitting the nail on the head: "this one is sure to move even the hardest of hearts". Stream now, and prepare to be moved later!
Monster Pies can be streamed right now, direct from www.PrideTV.co.za. Enjoy this ad-free feast from Africa's LGBTQI VOD leader!