PrideTV Highlight: Her Story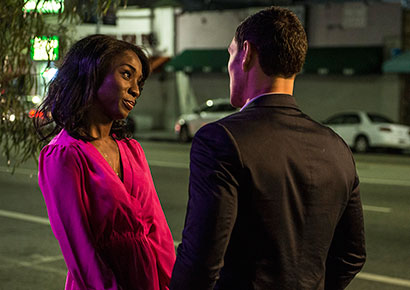 Directed by Sydney Freeland, this title from the PrideTV Freemium portal is about two transgender women who have given up on love; a familiar theme.
Set in Los Angeles, Her Story was originally an Emmy-nominated six-piece web series that subsequently had a theatrical release.
One reviewer wrote that the movie is both entertaining and also socially and morally helpful. We couldn't agree more. It's difficult to come by transgender-themed movies that do not feature transgender people either as the villain or as some sort of colourful, yet meaningless, addition to a film.
Having giving up on finding that one special person, Violet and Paige both experience chance encounters that give them new hope. Doesn't that always seem to happen in life? (Thank goodness, we might add!) So chance gives them both new inspirations to carry on trying.
Violet is drawn to Allie, a reporter who approaches her for an interview, while career-driven Paige meets James, the first man she's considered opening up to in years. Of course, the trans theme pops up and both women consider whether or not they will risk letting who they are stand in the way of being loved for who they are.
This is a movie that effortlessly presents the many layered complexities of transgender life. Instead of being punchlines and villains, these two trans women are rightfully depicted as, well, just like any of us, with our own unique struggles, thoughts and engaging in that familiar battle to find true love.
Her Story can be streamed right now direct from www.PrideTV.co.za. Enjoy this ad-free feast from Africa's LGBTQI VOD leader!