PrideTV Highlight: The Boy with the Sun in his Eyes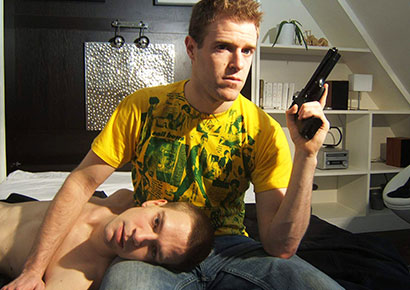 The Boy with the Sun in his Eyes, now streaming on PrideTV, is set in the City of Love, Paris (of course!).
It stars American actor Tim Swain, who plays John in the film. The talented and easy on the eyes Mr Swain has also been in such indie LGBTQI movies as Fortune Cookie.
The plot sees John becoming the boy toy of a famous B-movie actress, Solange. A funeral, of all things, initially rockets John into Solange's flamboyant and heady world. Solange is best-known in Europe for her roles in '80s Italian horror movies and John takes to her glitzy realm like the proverbial duck to water.
However, after whirlwind romances with everyone from model managers to French pop stars, John soon realises Solange's world is far more dangerous than he could ever have imagined. This hints at the movie's title – blinded by the high life, our lead is oblivious to the lowlife now all around him.
The movie's locations are awesome and they provide the viewer with a convincing glimpse into the lives of the (almost) rich and famous who seem to party on as if there is no tomorrow. As John soon discovers, sometimes there is no tomorrow.
Directed by Todd Verow, The Boy with the Sun in his Eyes can be streamed right now from www.PrideTV.co.za. Enjoy this ad-free feast from Africa's LGBTQI VOD leader!