PrideTV Highlight: Alone With People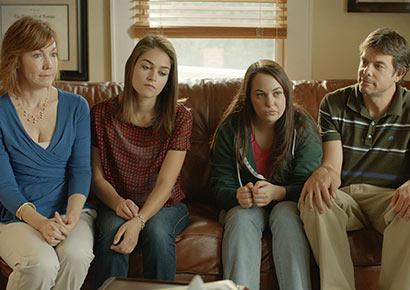 Directed by Drew Van Steenbergen, Alone With People is a half-hour short film now streaming on PrideTV that deals with the familiar coming out theme coupled this time with a young girl's coming of age.
Fortunately, this young girl is a smart one as she enlists the aid of a professional therapist to help her deal with both challenges. Set at a high school in the American South, Bella Coletta stars as our protagonist while William Joel Coady plays her boyfriend, or perhaps, soon-to-be bestie…
Andie (Coletta) is in a place that so many young LGBTQI teens have been before. She has loving parents, a cooler older sister, and a boyfriend. Now all she has to do is tell them she's gay. At least she has all that. Still, the coming out challenge is immense, no matter how large, warm and cuddly one's support network is.
So that's the serious part. Now we should mention that this delightful movie is, in fact, a comedy drama and has been described as "hilarious" and "touching".
We love the fact that Andie handles being lesbian in the South the only way she can: by being in love with all of her sister's friends and watching The L Word on the sly.
Finally, here's a quick factoid to conclude our movie blurb: Alone With People, by LC Productions, was largely funded by kind souls on Kickstarter!
Alone With People can be streamed right now direct from www.PrideTV.co.za. Enjoy this ad-free feast from PrideTV, Africa's LGBTQI VOD leader!