PrideTV Highlight: You Can't Curry Love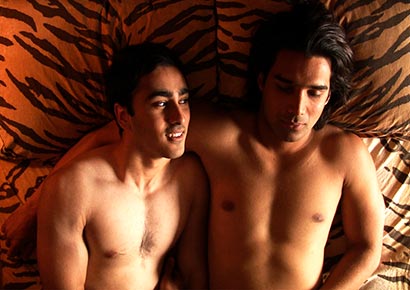 Now streaming on PrideTV, You Can't Curry Love is a charming short film if ever there was one.
It is about rediscovering one's roots in the best possible way: going back to the 'old country', as transplanted Italians would say it, and falling in love with one of the locals.
Written and directed by Reid Waterer, You Can't Curry Love sees a good-looking South Indian man from East London visiting the land of his parent's birth: magical India. He soon falls for a local guy, encounters a transgender 'hijra' and discovers a country he only thought he knew.
Ashwin Gore and Rakshak Sahni are our lead actors and do a spectacular job convincing the viewer they only have eyes for each other. One reviewer called this "the cutest film ever".
We think it's a lot more interesting than that – yes, there's plenty to warm the cockles of the heart. If we were watching this in an old-style big-screen theatre, you'd hear plenty of swooning noises coming from the audience, and not just when Ashwin makes an appearance.
However, with complex themes woven throughout the movie – transgender advocacy is one of them – this is definitely one for the thinking person's incurable romantic.
You Can't Curry Love also deals with the issue of immigration and a little spoken-about consequence of leaving the land of one's birth which is, quite simply, that later children will have next to no connection to what used to be so familiar for the rest of the family.
Ashwin's character discovers this, experiences a little pain, and grows a lot by the end of this moving, funny and thoughtful film. Enjoy it (with or without sambals) we certainly did!
You Can't Curry Love can be streamed right now direct from www.PrideTV.co.za. Enjoy this ad-free feast from Africa's LGBTQI VOD leader!