Cape Town Pride 2019 is closer than you think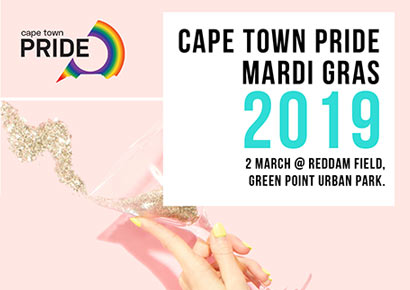 Cape Town Pride 2019 will be marking its 16th annual week-long festival from the 22nd of February, climaxing with the Pride Parade and Mardi Gras.
Pride Week will see the return of long-standing hallmarks of Pride, including the Mardi Gras, Pride Parade, Mr and Miss Cape Town Pride, Pride Bookcase, Poetry, Vodacom Rainbow Pride Fun Run, Lifestyle Conference and DIVAs.
In addition, there will be a full slate of cultural and affiliate events, workshops, community, memorial and festival events, and more.
The event is being held under the theme of "I AM ME – no excuses, no regrets." It's intended, says Matthew Van As, Cape Town Pride's Festival Director, to "empower members of the LGBTQ+ community to embrace, embody, and express what Pride truly means to them in the rawest, most authentic ways possible."
The Pride Parade & Mardi Gras
The Pride Parade will take place on the 2nd of March from 12pm, starting at Prestwich Street in De Waterkant and moving towards Reddam Field at the Green Point Urban Park.
This will be followed by the Cape Town Pride Mardi Gras from 1:00 pm to 8:30 pm at Reddam Field. International and local acts include; Ceri Dupree, Jimmy Nevis, Craig Lucas, Manila von Teez, Zoe Zana, 3D, Lathiem Grabriel and introducing 4 Tons of Fun and more.
"This year we are starting off the festival with a moment of silence for all brothers and sisters who have lost their lives to homophobia and transphobia," says Thomas Patterson, Director of OUTReach Africa, which hold the events. "We feel that this will be more impactful and will also give it the solemnity that it deserves."
"Pride Week 2019 will celebrate and empower Cape Town's vibrant and creative LGBTQ+ communities in unique and exciting ways," adds Van As.  "With the help of our business and community partners, we're planning new spaces, new activations and new events that will grow the festival and create spaces for all members of our community to come together, be proud, and have fun because I AM ME."
"For us this year, it was important to tap into our values and remind the LGBTQ+ community that our sole objective, as OUTReach Africa, is to ensure they have the most amazing Cape Town Pride experience possible," says Patterson. "Cape Town Pride isn't Cape Town Pride without the marvellous people who make up our uniquely diverse community. 'I AM ME' is a testament to that."
Cape Town Pride event highlights
Here are some of the highlights of this year's festival,
Cape Town Pride Pink Party
22nd February 2019
8:00 pm – 2:00 am
Crew Bar, The Prison, Zer021 Social Club, The Social Bar and Versatile.
Cozy Pool Party – Pride Edition
23rd February 2019
1:00 pm – 7:00 pm
Radisson Blu Hotel Waterfront
Mr & Miss Cape Town Pride 2019
23rd February 2019
7:00 pm – 11:30 pm
Joseph Stone Auditorium
Klipfontein Rd, 7764 Cape Town, Western Cape
Vodacom Rainbow Pride Fun Run
24th February 2019
7:00 am – 10:00 am
Mouille point light house
Green Point Lighthouse, Beach Road, Mouille Point, Cape Town
Proudly Funny Comedy Show
25th February 2019
8:00 pm – 9:30 pm
Grounded Espresso Bar & Bistro
30 Highfield Road, Somerset Square, Cape Town, Western Cape
RuPaul's Drag Race's Morgan MicMichaels Live
26th February 2019
6:30 pm – 7:30 pm
Pre-Sale R150 and at the Door R200
46, Canterbury Street, Zonnebloem, Cape Town, Western Cape
Pride Poetry Evening
1st March 2019
7:00 pm – 10:00 pm
The Social Bar
Jarvis 18, Green Point, Western Cape, South Africa
Cape Town Pride Parade
2nd March 2019
12:00 pm – 1:00 pm
Starts at Prestwich Street in De Waterkant
Cape Town Pride Mardi Gras
1:00 pm – 8:30 pm
Reddam Field, Green Point Urban Park
Tickets (R50) at Quicket
More detailed information about ALL the Cape Town Pride events can be found on their Facebook page or website.