LGBTIQ+ village at Constitution Hill's Human Rights Festival
Constitution Hill and leading human rights organisations have come together to present the second edition of the Constitution Hill Human Rights Festival.
The festival takes place from 21 to 24 March 2019 at Constitution Hill in Johannesburg under the theme of StandUp4HumanRights.
The four-day event will include interactive activist booths hosted by social justice organisations over the weekend of the festival. The programme is packed with interactive workshops, panel discussions, film screenings, poetry readings, art exhibitions and theatre and dance performances.
It kicks off on Human Rights Day with exhibition openings and free tours of Constitution Hill, paying homage to all those who lost their lives in the struggle for democracy, particularly those who perished at the hands of the apartheid forces at Sharpeville on 21 March 1960.
The festival highlights the work of social justice organisations and the importance of civic activism. It is part of an evolving conversation about human rights that links the universal struggle for dignity and freedom to the injustices that many people in SA and the region experience daily.
LGBTIQ+ Village
The festival will include an LGBTIQ+ Village on 22 and 23 March, coordinated by the Thami Dish Foundation. LGBTIQ+ organisations have been offered stands to display their work and to interact with the public. "By joining resources we can create a space which will be informative, interactive, exciting and entertaining," said the foundation's Jay Judah Matlou. For more information, contact info@lgbtiqnetwork.com.
The #StandUp4HumanRights Music Concert will take place on Saturday 23 March. The first artist release includes DJ Kenzhero; Sjava, Sho Madjozi, Msaki; BCUC; DJ Ready D; Samthing Soweto and Easy Freak. Surprise additions to the lineup will be revealed in the run up to the festival.
The Annual Constitution Hill "We the people Walk" will take place on Sunday 24th March. Participants are encouraged to walk for the causes they support and to defend these causes under the banner of #StandUp4HumanRights.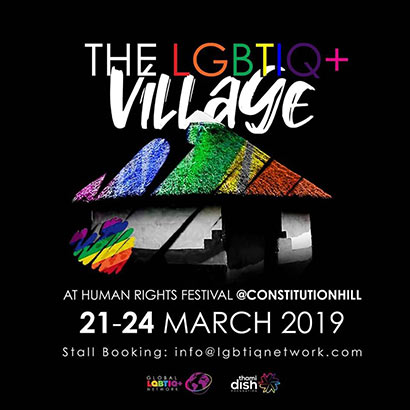 The festival also has a dedicated children's programme supported by key organisations. Play Africa will offer families their unique, interactive play exhibits where they can discover, explore and connect alongside their children.
"It is time now, to use our voices, louder and more effectively than ever before, to speak out for human rights – but more importantly, it is time to act to protect and promote human rights", says Constitution Hill CEO, Ms. Dawn Robertson. "In this the second year of the Human Rights Festival, we call for active citizenship. The Constitution and the rights enshrined therein can only be animated by active citizenry whose very agency is protected by the Constitution".
The entire festival is free and open to the public. Registration is necessary for the walk through webtickets. Tickets are also required for the tours and music concert and can be downloaded for free from webtickets or at your local PicknPay.