Review: Chicago The Musical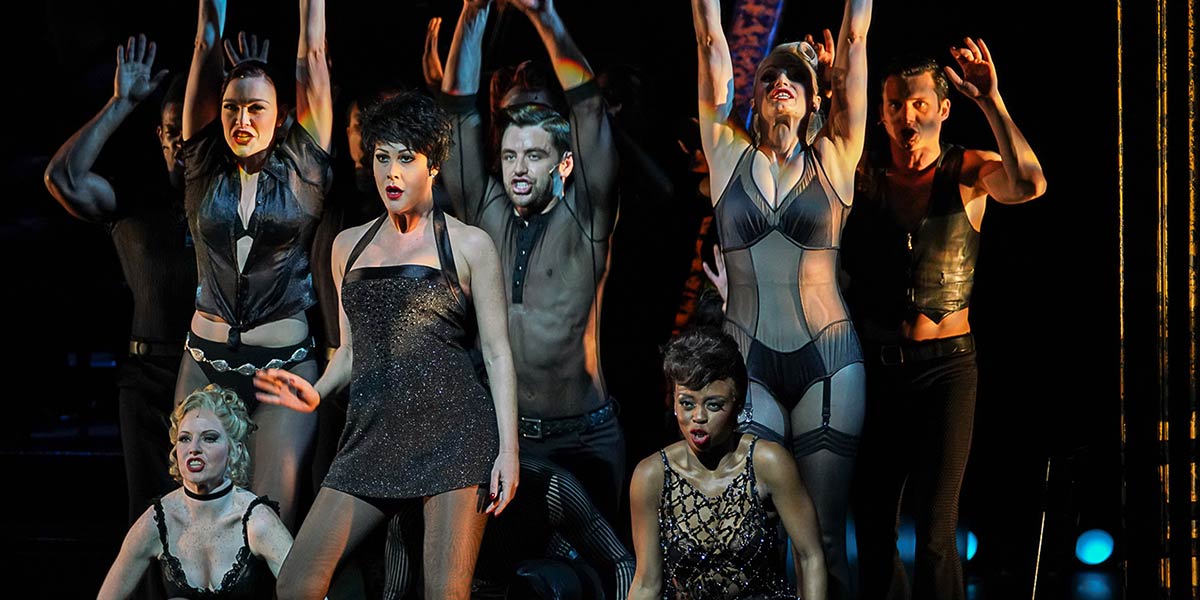 Chicago The Musical, now on in Johannesburg, was originally brought to the Broadway stage in 1975 and is still going strong today with packed houses around the world.
It plays out the real-life story of two 1920s women murderers and how at the time they became the celebrities of the day. (Just imagine Kim Kardashian having become famous for murder, not a sex tape.)
The audience was clearly full of expectation to see a classic. It's what you pay for and it's exactly what you get. When I say classic, I mean it in more than just the show's age. The production uses old-school tech and keeps things simple. There's very little in terms of a set; it's basically the 11-piece orchestra on stage in a slanted picture frame. The rest of the decor is produced primarily through lighting, to great effect.
Now granted, the show has become something of a formula: a copy of a copy of a copy. (As the saying goes, "If it ain't broke…") And even with the best copy sometimes a little bit of joy can be lost trying to 'be', instead of just 'being.'
Having said that, Chicago The Musical is highly amusing and is full of irony and underlying titillation; both females and males performers wearing very little. You can expect virtually naked men dancing to that unique 'Bob Fosse' style whilst smoking cigarettes; very cool.
This kind of show needs real triple threats: great actors, singers and dancers, not the easiest thing to be. There are very few in the world but we have a whole bunch of them here now in Johannesburg.
Carmen Pretorius (Jersey Boys, Sound of Music) in the lead role of Roxie Hart is flawless- one of the best Roxie's I have ever seen – and I've seen the show many times.
Velma, played by Samantha Peo (Cabaret, West Side Story), was also vocally exceptional but I felt she struggled with some of the choreography. Luckily the comedy in her character pulls her through. Craig Urbani as the corrupt lawyer Billy Flynn made the role his own and the crowds loved him.
One of my favourite characters was the conductor; award-winning musical director Bryan Schimmel (Jersey Boys, Annie, Priscilla Queen of the Desert) who leads the 11-piece orchestra. He has a few lines and with carefully placed jokes he connects beautifully with the action from the performers. Very funny, and clever.
The storytelling and the Bob Fosse-style choreography has to be seen to be believed. As a choreographer myself, I've used many references from Fosse's other works, especially the incredible 1969 musical film Sweet Charity. (If you haven't seen it yet, get your hands on it!) The choreography that he invented is still being danced (often unknowingly) by young dancers in the streets and on stage.
Chicago's finale – a wonderfully joyous parody of a Vaudeville act – has to be one of the most iconic scenes in any show. Pretorius and Peo killed it (excuse the pun), giving the audience the big Broadway finale they expected.
At this point, Chicago has become something like an old photo album. It's dated a tad and is a little faded in places, but I still love occasionally looking back and flicking through those pages. It's a brilliantly produced crowd-pleaser that's packed with talent and is well worth seeing. But don't panic if you miss it this time; after all, it will undoubtedly be back (again and again).
Chicago The Musical is now on at Montecasino in Johannesburg until 26 May 2019. Book through Computicket.