Kewpie: Daughter of District Six exhibition now in Joburg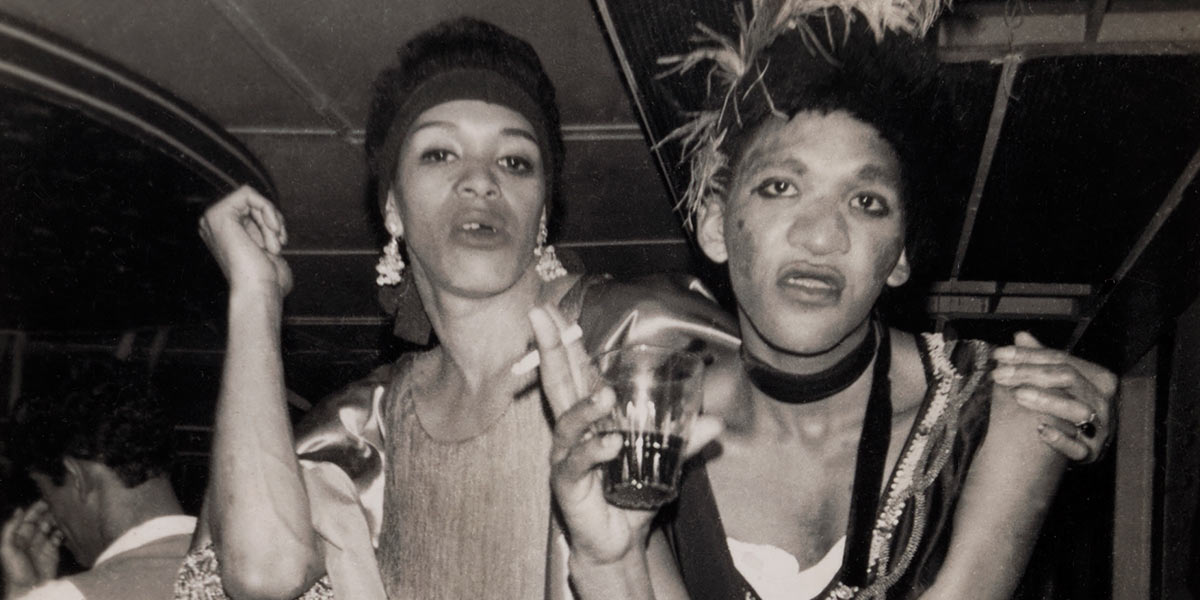 After a successful Cape Town outing, a photographic exhibition about Kewpie – one of District Six's most fabulous queer residents – is now in Johannesburg. Kewpie: Daughter of District Six is at the Market Photo Workshop in Newtown until 31 July 2019.
The exhibition features a selection of photographs from the Kewpie Photographic Collection housed at the GALA Archives. With over 700 photographic prints, it is GALA's largest photographic collection. Most of the photos were personally captioned by Kewpie when the photos were transferred to GALA in 1999.
Born in 1941, Kewpie was a well-known queer figure and hairdresser from District Six. From what we know, Kewpie's gender identity was fluid, and she did not strictly identify as either male or female. However, both Kewpie and her friends tended to use feminine pronouns for each other. Kewpie was a well-known hairdresser in District Six, and later in Kensington, in Cape Town in the 1960s and 1970s. By night, Kewpie was a celebrated attendee at drag balls, and would often perform on stage.
There are photographs of Kewpie at work in the salon, photographs of Kewpie and friends performing and socialising, various portraits of Kewpie's friends, lovers and neighbours, images from parties, snapshots taken of everyday life in the local area, and photoshoots of Kewpie's friends on the streets of District Six. Many images show Kewpie's extensive social life and social circle, both within District Six and further afield. They also show us the changing physical and political landscape of District Six and its residents amidst the travesty of the forced removals of the 1970s.
Kewpie's photographs show the value of personal archives in telling potentially lost stories. While the narrative of District Six and forced removals is relatively well known, the personal stories from inhabitants that really bring the community and its history to life. This has always been the mission of the District Six Museum. With Kewpie, the opportunity was given to tell and show a lesser known aspect of this lost community, that of its queer community, which was largely accepted and embraced.
District Six Museum director Bonita Bennett says the exhibition tells a "wonderful story of resilience, zest for life, style and community lived out against the backdrop of forced removals which was happening all around".
The Museum's exhibition curator Tina Smith says GALA has a "valuable resource which records a thriving and celebrated queer culture within a community that has since been displaced".
"The collection reinforces historical understandings of District Six as a close-knit community where diversity was accepted, while highlighting a lesser-known aspect of District Six history," says Smith.
"Emerging from this is a bold and unrepentant self-reflection of Kewpie's illustrious life portrayed against a backdrop of societal challenges. It defied conventional definitions, pushed boundaries of gender stereotypes, class and racial prejudice beyond the restrictive measures of apartheid's discriminatory ideology."
GALA director Keval Harie adds: "Kewpie's legacy raises important and necessary questions for the LGBTIQ+ community in terms of issues of identity. We need to move beyond binary approaches of identity and support communities, particularly the trans community, and focus on being gender affirming. That is the power of Kewpie's story."
Kewpie: Daughter of District Six is on at the Market Photo Workshop until 31 July 2019.
The Market Photo Workshop Opening Hours:
Monday – Saturday: 09:00 – 17:00
Sunday: 10:00 – 16:00