It's time for Durban Pride 2019!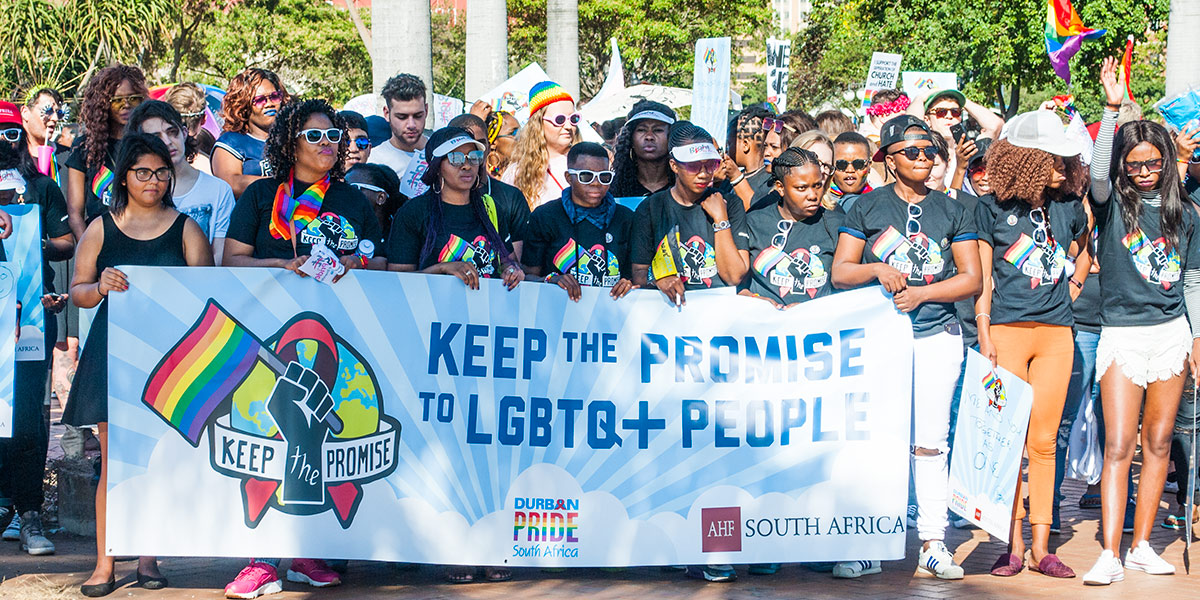 Durban Pride 2019 will be taking place on Saturday 29 June in the city's CBD with a demand for LGBTQ people to be treated equally by all.
The event is described as "an expression and celebration of sexual diversity within the city of Durban and the Ethekwini municipality."
Backed by the Aids Health Foundation (AHF), Durban Pride returns with the theme "Keep The Promise," for the second year running.
While in 2018 this was a demand for political parties and government to keep their promises to the LGBTQ community, this time it's a call for service providers to meet their constitutional obligations to treat the community with "respect, dignity and equality".
The event kicks off at Gugu Dlamini Park at 10h00 when gates open with free entry. The march starts at 12h00 with an official programme followed by the LGBTIQ+ community and allies taking to the streets. (People are reminded to bring sensible shoes for marching and sunscreen, hats and water.)
A number of local entertainers will be performing at Durban Pride 2019, including drag artists and DJs from across the rainbow spectrum. The community Pride village and fair will allow attendees to shop at various vendor stalls, mingle with the opportunity to learn and meet, and to enjoy food and drink – responsibly, of course!
Duban Pride runs until 22h00, after which revellers can enjoy the various independent after-parties and social gatherings across the city.
Addressing concerns about the safety of the venue, Durban Pride Director Nonhlanhla Mkhize said that with limited funds, finding venues is always a challenge. "Safety issues are a concern everywhere we go. Our Pride parade and festival is currently a free event, which means immediately security is compromised."
She added: "We are targets of small to large scale crimes even at costly spaces and events. Parading on any public street itself is not safe. Do we stop marching?"
Mkhize noted that as the custodian and organiser of Durban Pride, "the Durban LGBTI Community Centre is a non-profit organisation whose livelihood is under constant threat due to [lack of] funding for LGBTI causes."
"Still, from a campaign organiser perspective, we have raised some funds to pay for fencing and security personnel. Safety, security and ensuring that we all have a good time is all our responsibility [and] it requires all our combined effort to make it work," she said.
SAPS, Metro Police and security will assist with ensuring that the space remains safe. The organisers reminded attendees that glass bottles may not be brought in to the venue, nor may cooler boxes (as per KZN Liquor Authority directives). Picnic baskets and non-alcoholic beverages will be permitted. Drinking in public outside of the festival area is illegal and will be enforced.
Two supporting events are also taking place this week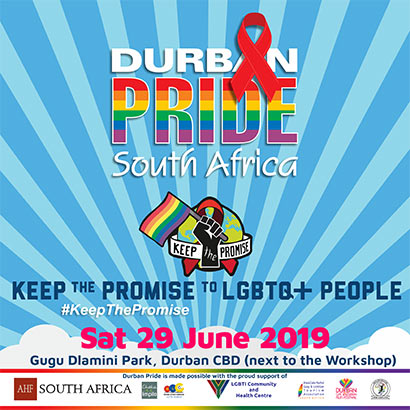 On Thursday 27 June from 5pm to 8pm un/conventional will introduce a new monthly networking event for LGBTIQ+ professionals at the roof-top pool deck of The Square Boutique Hotel on La Lucia Ridge. Tickets are R150 and include welcome drinks and canapes, with an entry into the evening's lucky draw. Patrons stand a chance of winning a night for two people at The Square on a bed & breakfast basis, along with fine wine and other prizes. Organised by Pinq Travel on behalf of the Durban Gay & Lesbian Film Festival, proceeds will go to the festival and KwaZulu-Natal Gay & Lesbian Tourism Association, respectively. Details are available at www.dglff.org.za.
On Friday 28 June from 5:30pm to 8pm the now much anticipated annual Pride Boat Cruise takes place from Durban Marina aboard a luxury catamaran with limited tickets available at R180 pp. The KZN Gay & Lesbian Tourism Association will be celebrating its 15th year with Pride patrons and is the boat cruise organiser, with funds being raised for KZNGALTA activities. Patrons will get the Pride Weekend off to a smooth sailing start on Durban Harbour before heading off to various pre-Pride events. Event info at www.kzngalta.org.za.
For any last minute stall or float enquiries ONLY, please email mc@durbanpride.org.za. For updates, keep an eye the Durban Pride Facebook page.