Village Drinks | Networking Cape Town's LGBTQ community
Despite advances in technology, it's not always easy to meet people or make meaningful connections. Village Drinks Cape Town is an initiative, now in its second year, trying to make Cape Town's LGBTQI community a friendlier one.
"We wanted to create a platform where LGBTQI professionals could come together for professional or social networking," explains Jorge, one of the organisers.
Village Drinks meets on the second Thursday of each month and holds a "happy hour" event from 6 pm. An ice-breaking game and raffle are also held at each event. Each season, Village Drinks holds special mixers and other gatherings.
"With all the apps and technology, some people still feel less connected and there is something nice about meeting people face-to-face in a safe environment," says Jorge. Village Drinks started up after another similar networking event ended in the Mother City.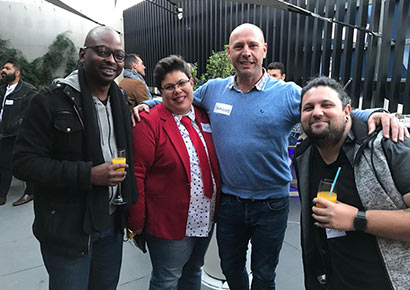 "We try to ensure that everyone mixes and that everyone makes at least one new connection. Everyone is welcome," adds Kyle, another of the organisers.
Each attendee is given a nametag on arrival and LGBTQI businesses can promote their services by giving away a prize in the raffle.
"The feedback has been really positive. Some guests promote their businesses, others make new friends, dates and some get tips on new jobs. We encourage everyone to mingle and be friendly. Everyone is there for the same reason," says Jorge.
The August networking event is on Thursday 8 August from 6 pm at The Station on Bree Street. The September networking event will be held on Thursday 12 September from 6 pm at the gay-owned Lou Lou's Bar and Restaurant at Cape Quarter.
R60 entry includes access to the raffle and the first alcoholic drink.
For more information on upcoming Village Drinks events, visit then on Facebook at www.facebook.com/villagedrinksCPT or email info@villagedrinks.co.za.