International opera star to perform Broadway hits in PTA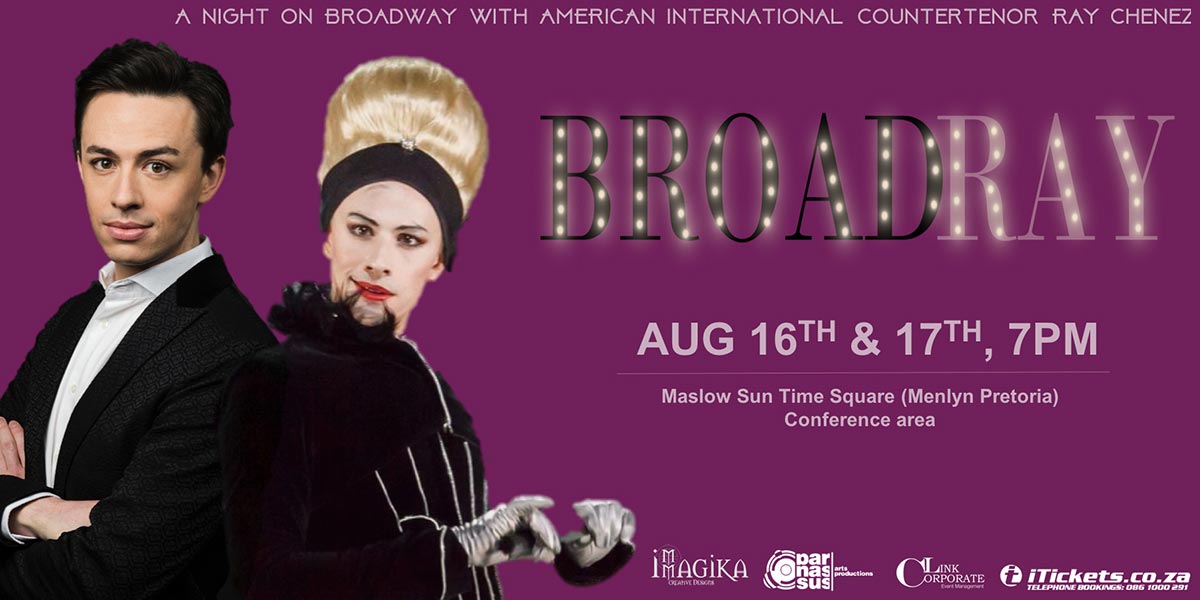 Music fans in Gauteng are in for a treat! International opera singer Ray Chenez will perform two exclusive Broadway-themed shows in Pretoria on 16 and 17 August.
The New York-born artist, who is an acclaimed and award-winning countertenor, performs in productions around the world – and now he's on his way to South Africa to stage his BroadRAY show.
Ray will sing for two nights only at the Maslow Sun Hotel in Time Square in Menlyn, Pretoria.  Come dressed as your favourite Broadway character, while being enchanted by Ray's lovely performance.
The star himself will select the best dressed BroadRay King and Queen from the audience. Prizes will be given to the winners.
BroadRAY is a rare opportunity for both connoisseurs and general fans of musical theatre to enjoy the talents of this world-class vocalist. Don't miss it!
About Ray Chenez
Ray completed his vocal studies at the State University of New York at Fredonia and Florida State University. The young American countertenor was featured in Opera News as one of the next generation's rising stars of opera, stating "Ray Chenez's countertenor is bold and assertive but also warm-toned and luxurious. He has a naturally electric presence, and his diction is precise no matter how high he sings."
Winner of the 2014 George London Award, he is in demand worldwide and has been called "luxury casting" by the New York Times, having "excellent connection to text, superb vocal control and spotless diction" by Opera News, and having a "dramatic soprano voice which oozes potential" by Opera Britannia.
In the 2018-19 Season, he makes his debut at Oper Frankfurt as Irina in a new production of Tri Sestry by Peter Eötvös. He returns to the Händel Festspiele Halle, where he will sing the tile role Mirtillo in Handel's Il Pastor Fido, and Narciso in Handel's Agrippina with Christophe Rousset and Les Talens Lyriques.
He will create two roles in world premieres – the role of Kalden/Ty in The Circleby Ludger Vollmer at the Deutsches Nationaltheater Weimar and the role of Ampelos in Dionysos Rising by Roberto David Rusconi in Trento; and he will sing the title role Aminta in the modern-day premiere of Il Re Pastore by Maria Teresa Agnesi in Kattowice, Poland.
BROADRAY EVENT DETAILS
Dates: 16 & 17 August 2019
Time: 6.30 PM
Venue: The Maslow Hotel Time Square, Menlyn
Tickets: VIP R380 pp, Premium R330 pp and Standard R280 pp at iTickets