Diabolique, Africa's largest adult lifestyle festival is here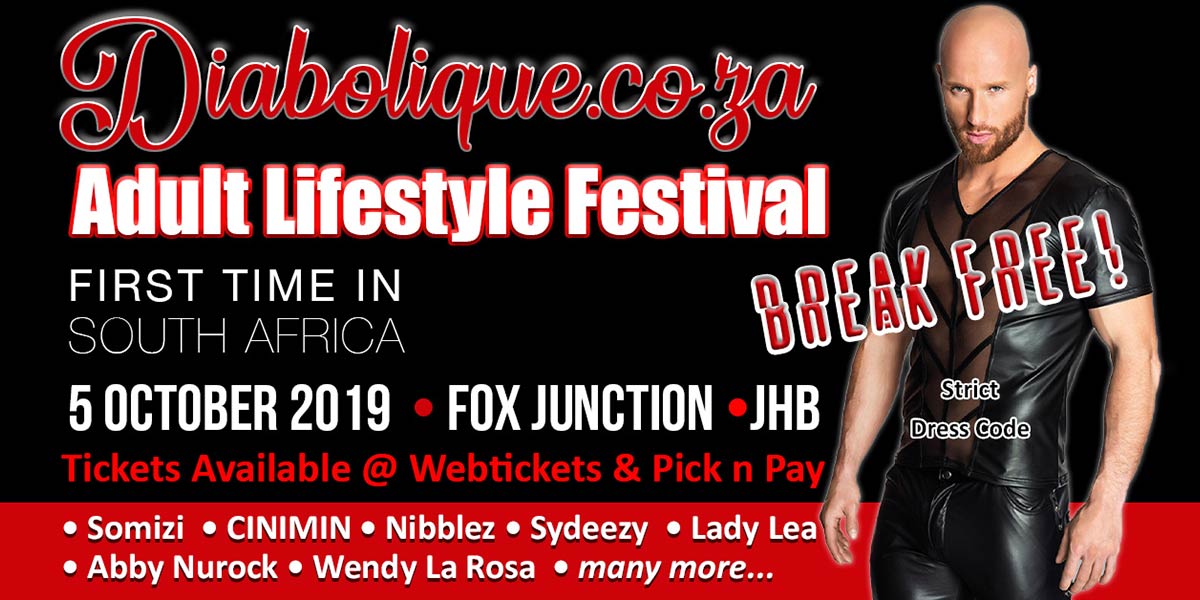 Bring out your wild side! Diabolique, an LGBTQI-inclusive fantasy experience that's been dubbed Africa's largest adult lifestyle festival, is being held in Johannesburg on 5 October.
The event aims to bring a range of different lifestyles, sexualities and communities, all under one roof, including Fetish, BDSM, Goth, Steampunk and the LGBTQI community.
"The festival is about tolerance and respect, in an environment free of judgement, prejudice and harassment," says the event's Marketing & Social Media Manager, Lynne Esau. "We want people from all walks of life, from diverse communities to come together under one festival, to enjoy themselves; to break free from the shackles that imprison us in our daily lives."
Guests can expect music and partying the whole night, courtesy of some of the country's best DJs, like CINIMIN, Lady Lea and Abby Nurock. There will also be special appearances by Somizi and the reigning Ms Gay Western Cape, Wendy La Rosa.
Attendees will be able to shop for alternative clothing and naughty goodies at a variety of stalls and explore body piercing, body modification, and tattooing. They can also expect erotic pole dancing, aerial shows, a 'Magic Mike' style show by Pulse and alternative fashion shows with alternative models throughout the night. And guest won't go hungry, thanks to some outstanding food vendors.
"We also have a BDSM and Fetish cage for those who want to see what that lifestyle entails, or want to join in. There's a Fantasy Lifestyle Lounge, and an LGBTQI Meet and Greet Lounge. So in a way, we have something for everyone. You can party away, enjoy exquisite food at the food court, or relax in one of our lounges," says Esau.
Diabolique hopes to bring together all open-minded individuals: from the young and fashionable to the alternative, from the creative and burlesque to the sophisticated BDSM and Fetishists, from Goth to the LGBTQI community.
"Diabolique is a trendsetting and innovative event. A playground for adults, to do adult things in a naughty, playful and theatrical environment," Esau continues.
She adds that it is not a sex party, as some people might think. "Diabolique is a festival for all open-minded individuals. It aims to bring alternative lifestyles into the mainstream by creating a respectful and safe environment for all adults to enjoy. We want to dissolve the myth that an alternative lifestyle is something to be intimidated by, when, in fact, the complete opposite is true."
Diabolique has a strict dress code and guests are encouraged to express themselves and expose their creativity and fantasy in their outfits. The "Door Bitches" will check that all those coming through the door adhere to the dress code: anything goes, except casual streetwear (ie, no t-shirts or takkies). "The more extravagant, the better!" says Esau.
Early bird tickets are already sold out! So, get your ticket now, while you can: available through Webtickets and PnP. You can also upgrade to a premium ticket, which comes with benefits, like entry into a competition where you stand to win 1 of 2 tickets to Wasteland in the Netherlands. (Ts and Cs apply).
For more information, visit www.diabolique.co.za or click here to get your tickets!
EVENT DETAILS: Diabolique Adult Lifestyle Festival
Date: Sat 5 October 2019
Venue: Fox Junction (14 Alexander St, Ferreiras Dorp, Johannesburg)
Time: 5pm – 2am
Parking: Secure onsite parking @R20 for the night (or just Uber there)
Tickets: Webtickets