LGBTQ theatre: No Easter Sunday For Queers
The debut production of No Easter Sunday For Queers, the award-winning script about a tragic queer love story, will premiere at the Market Theatre in Johannesburg.
Koleka Putuma's script for No Easter Sunday For Queers was the overall winning play that was selected to be produced and staged as part of the Distell National Playwright Competition organised by the National Arts Festival.
Putuma is the inaugural winner of this new competition that aims at showcasing fresh storytellers and new voices. The competition is for debut playwrights who have not yet had their work staged.
Putuma is an award-winning poet, playwright and theatre director. Her bestselling debut collection of poems, Collective Amnesia, took the South African literary scene by storm since its publication in April 2017. This ground-breaking new voice of poetry was recently appointed as creative director for the 2019 Design Indaba Conference.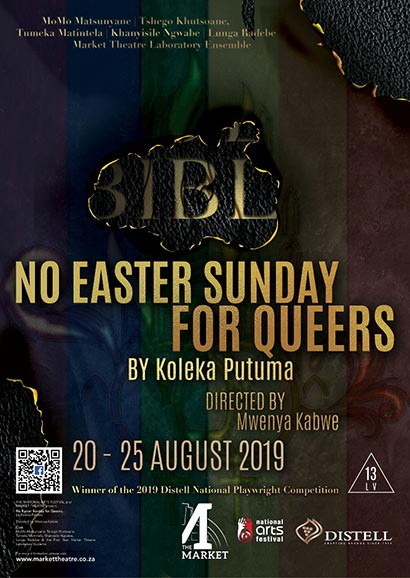 No Easter Sunday For Queers follows the love story of Napo and Mimi. The lovers, through the Easter Sunday sermon, return on the anniversary of their death to make the Father reckon with the present and the past and a crucifixion he must account for.
The altar is a cross and the subconscious a courtroom where the dead seek justice for a sin committed by their perpetrators. The protagonists cannot tell the past from the present and scripture from the truth. Every year, on Easter Sunday the church is made to remember.
When a young woman's place of hope and space of worship becomes the very place that will shackle and stifle her life and beliefs… When a father's love turns into hatred for a daughter that needs love and support… When a father and daughter relationship becomes the breeding ground for anger and hatred, it all ultimately leads to a tragic end.
The audience is drawn into this deep and poetic story of young people who are punished for their love and life. These young women want to be accepted and loved by their families and community and not endure constant badgering and verbal abuse. The church and family are meant to be safe havens where people can be themselves without judgement.
Their murders should not be just another statistic; a catalyst for change and interventions to allow people to live their lives in a free and safe environment. Mwenya Kabwe takes the director's reins with this poignant story that promises to deliver some hard-hitting punches.
No Easter Sunday For Queers will premiere at the Market Theatre for a limited season from 20 to 25 August at the Mannie Manim.
EVENT DETAILS: No Easter Sunday For Queers
Date: 20 to 25 August
Where: Market Theatre, 56 Margaret Mcingana St, Newtown, Johannesburg
Tickets: WebTickets