Therapy 23 to ignite Jozi's clubbing scene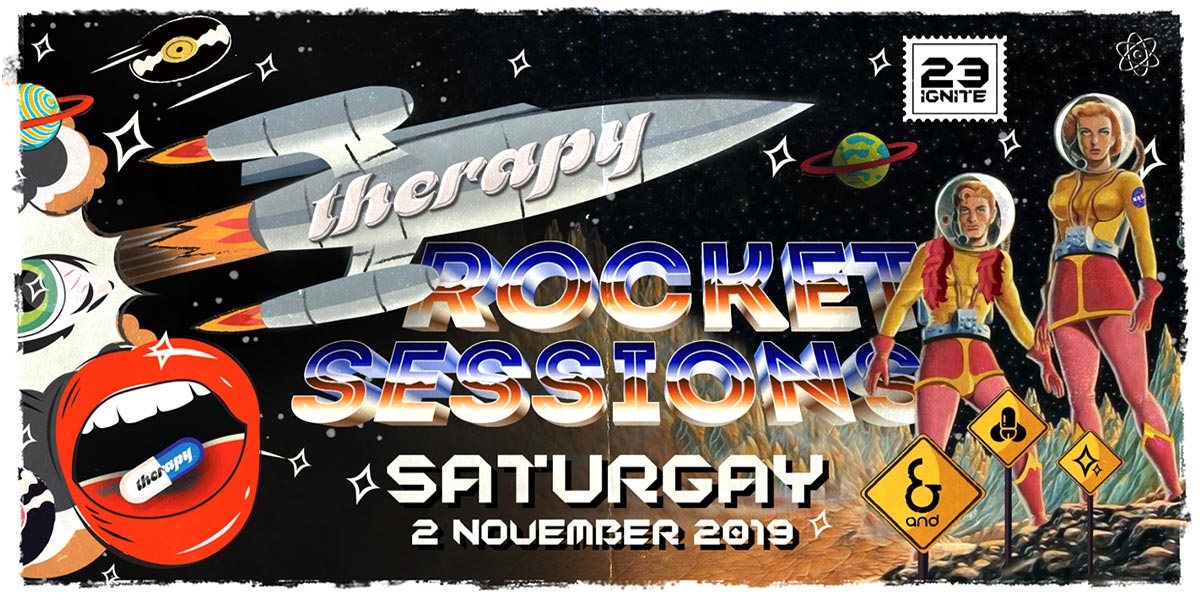 Legendary local queer dance party, Therapy, unveils their monthly "Rocket Sessions" which will ignite on Saturday 2 November in Joburg.
'Therapy 23 Ignite' takes place at And Club in Newtown on the night of Therapy's 23rd birthday celebration, in association with Red Bull and MambaOnline.com – SA's leading queer news and lifestyle platform.
Join Therapy for a celebration of music, glamour, cultural and gender equality and above all else, the love of a good time!
"It's definitely cool to have the parties in the city, with no traffic, minimal interference, and being able to make a noise! Jozi can be a lot of fun!" says Therapy founder Stuart Hillary.
The 23rd birthday production
Therapy returns to And Club in Newtown, a cutting edge venue that, once again, will pull out all the stops for Therapy on this special night.
Be welcomed by "Door-Whore" and MC supreme "Odidiva" and her crew, into a superb industrial setting decorated in true birthday party style. Enjoy a thumping dance floor with full-service bars and lounging areas, superb sound powered by Void Acoustics, featuring seductive lighting effects as well as the wildest troupe of Therapy dancers yet, who will fan the flames of this dance floor inferno.
You'll be treated to amazing lighting shows and a top line-up of DJs, who will serve up only the latest and best Tech-House, taking you on a blissful musical journey that will keep you celebrating on the dance floor all night long.
Side-shows will include choreographed dancers, a twerk machine competition, a customisable selfie machine, hot barmen administering shooters directly into people's mouths, drag queens on stilts, and much more.
When: Saturday 2 November 2019
Where: And Club, 39 A Gwi Gwi Mrwebi Street, Newtown, Johannesburg, -26.20118, 28.02857.
Time: 9PM – 4AM
Tickets at the door: Before 10pm: R 80, thereafter R 120
Tickets online: Howler: R 70
Right of admission reserved: No under 18s, No Attitudes. Disclaimer: Therapy is an LGBTI event and maintains an open-minded party policy, which shows respect for all partygoers, no matter the gender, sexual orientation, race or culture. Peace Love Unity Respect…Therapy has a "no cameras and phones" policy; phone usage is allowed, but not on the dance floor – "phones off, party on!"
The hostess, Odidiva
Odidi Mfenyana has become South Africa's leading live singing drag performer. He began as the lead singer of the rock band Spare Mary in 1996 and hosted his own counter-culture music show on UCT Radio 1999-2002. From 2001, Odidi began singing live over the house mixes of several DJs. Internationally, Odidiva sold out the legendary Stonewall Inn in New York City before "showing flames" at Public Arts, the venue that housed the residency of DJ icon Louis Vega (Masters At Work) in 2017.
"No Lip-Synching, no Impersonation, everything is live, proud and personal, but what really distinguishes is her political edge." – Design Indaba Magazine
"A gospel saint of the clubbing scene, a preacher of reconciliation through pop-culture, a slam poet, a rap star, a rock star." – Cape Times
"Odidiva, the hyper-talented MC of the evening. At turns a shaman, a seductress, the high-heeled, glamazon breakdancer, and then the soul-man. Odidiva must come to New York and do a solo show! "- The New York Theatre Review
"A sassy, brassy turn by Odidiva, a drag queen with a mission and a message…edgy, conceptual, popular, and fabulous, the way art ought to be every night." Review of the Homecoming Ball, Public Arts Review
The Therapy DJs
Enjoy a dancefloor gravity-free adventure, skillfully served up in the unique Therapy style with a journey blending Nu Disko, Deep, Soulful, Vocal, Funky and fired-up Tech House.
Goldenboy
Jacques aka Goldenboy's first gig was at Babylon the Bar on his 23rd birthday party. He was originally inspired by David Guetta and the collaborations he did with Rihanna and Nicci M. As a DJ, he has come a long way since those early days. After leaving the club scene as a commercial DJ, he found himself obsessed with the house music sound. "We are very happy to have Goldenboy as one of our resident DJ team, he is going to drive the boys crazy, on many levels," says Hillary.
Special Guest DJ: Justin Vee
Justin Vee's love affair with electronic music began on the dance floor. He burst onto the party scene in 1997 at Johannesburg's legendary Sunday playground, ESP. In his capacity as a sound engineer for BMG Studios South Africa, Justin went on to record many of SA's finest musicians. He also worked closely with TK Zee on three of the band's albums. Immersing himself in the studio, Justin also composes original house music. In 2007, Justin was invited to come aboard what is, without doubt, one of the most successful, quality dance compilation brands of the last decade, House Anthems. Over the course of Justin's illustrious career, he has played alongside some of the biggest names in the industry including Layo & Bushwacka, the Shapeshifters, Hoxton Whores, Sharam Jey, Style of Eye, Chris Lake, Cosmic Gate, Eddie Halliwell, Paul van Dyk and Fatboy Slim, amongst countless others. From tech-tinged, funk-edged and twisted electro or bumping house, Justin's distinctive drum-driven, energy fuelled style will rock the Therapy dance floor.
Stuart Hillary
The music industry fluctuates and changes all the time, but Stuart's 28-year presence in the electronic music and entertainment industry has seen him remain one step ahead by innovating, collaborating, reinventing, taking chances, and never insulting the audience's intellect. He has deejayed at, promoted, or owned some of the most memorable clubs and events in South Africa. As a DJ, his talent has afforded him the opportunity to play alongside and earn the respect of the likes of Boy George, Carl Cox, Sasha, Digweed, Josh Wink, Junior Sanchez, Frankie Knuckles, Tony de Vit, Fedde Le Grand, David Vendetta, and Danny Rampling, to name a few.
Kyle Worde
Kyle Worde is one of South Africa's biggest new school club DJs with a devotion to seek and play new music. He's quickly cemented his name amongst the few to 'hear it first'. Kyle has been a part some of the biggest events in South Africa including The 'Sasha' Smirnoff Experience, Hed Kandi Tour Series as well as the G&G New Year's Eve Live City Linkup featuring Pete Tong of BBC Radio 1.
The Therapy history
With an original and ongoing aim to host boundary-breaking parties, with an emphasis on the well being of club-goers, Therapy was founded in 1996 by well known Dj Stuart Hillary. It is an iconic mixed queer / LGBTI and house music lovers' dance party brand that's built an acclaimed local and international reputation. It's always been firmly entrenched in the hearts of party lovers, classy clubbers and genderqueer crowds, as well as being an open and free environment for all. A regular flow of global DJ talent combined with Hillary's ongoing creativity has kept Therapy on par with the best parties in the world. Twenty-three-years-young, Therapy maintains a loyal and diverse crowd.