#StayStrong campaign to assist victims of violence and bullying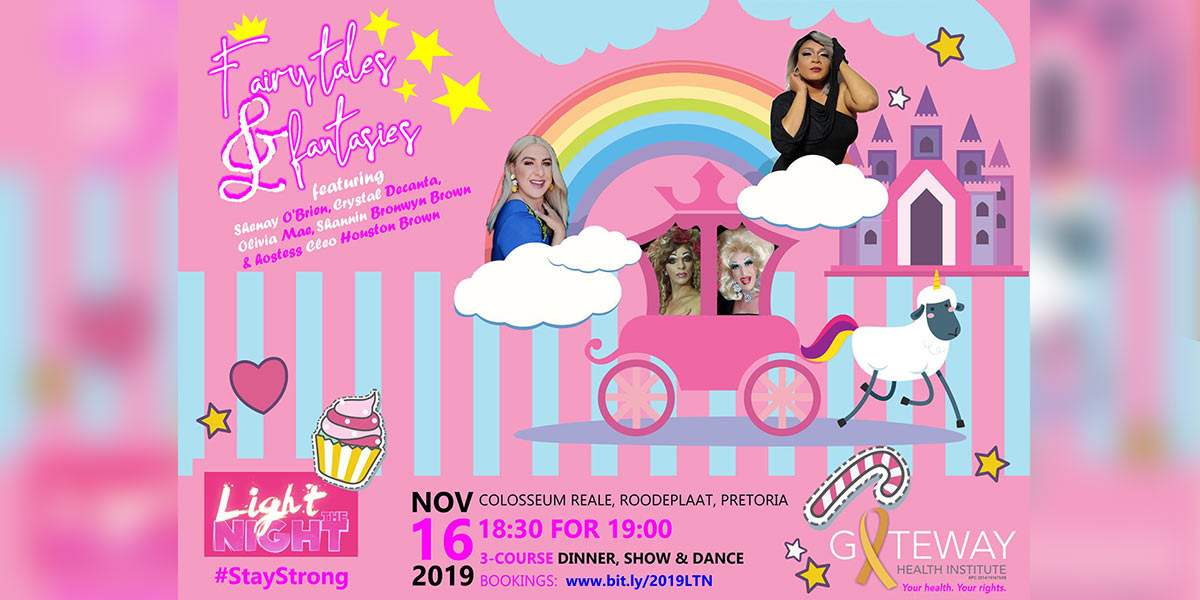 The Gateway Health Institute is launching its #StayStrong campaign at the annual Light the Night event with a host of drag talent, on 16 November at the Colosseum Reale Venue in Pretoria.
"We all have a story to tell about how violence and bullying in some form or another affected us or someone close to us at some point in our lives," says Dr Coenie Louw, executive director of Gateway.
The 2019 Light the Night show and dinner will serve as a platform for the official launch of the #StayStrong Campaign, and to raise funds to assist victims of violence. 
"We hope and aim to continue our efforts to engage government on taking some tangible steps to put an end to this epidemic of violence that is ravaging our communities, be it women, girls, children or LGBTIQ+," continues Louw.
"The #StayStrong campaign is there to promote acceptance and inclusivity and to promote a positive message that we as a community care about these issues. We all have a right to live free from violence, bullying and "othering"." 
The #StayStrong campaign is supported by drag artists from all over the country, who will entertain and edutain the Light the Night guests.
Performers include the super talented Shannin Brownwyn Brown, the "Diva-at-large" all the way from Cape Town, Shenay O'Brien from Johannesburg (who reached the top 16 of Idols SA and is currently one of the breakthrough mainstreams drag-performers), the ever-so-funny and witty miss Olivia Mae from Parys in the Free State, and the evergreen Crystal Decanta from the East Rand. Cleo Houston Brown, from the Northern Cape, will be your hostess for the evening 
"We are not only there to entertain," says Brown, "but we are also here to spread a message of acceptance and inclusivity. It is never ever okay to be the victim of bullying and general gender-based violence. If we all would start to use our voices to change things for the better, can you imagine what a wonderful world we'll all be living in – no matter our backgrounds, gender or social standing in our communities. Let's stand up and be the change we want to see in the world."
Gateway Health Institute is an LGBTIQ+ led non-profit organisation based in Gauteng that works towards realising the sexual and reproductive health and rights of vulnerable and marginalised groups, such as adolescent girls and young women, refugees and LGBTIQ+ communities.
The Light the Night show, which was the brainchild of the late Debra de Donner ("Diva extraordinaire" and two-times winner of the Me. Pink Loerie pageant), started out as an annual garden show benefiting Gateway Health Institute in Centurion. This year, the organisers decided to up the event to a full dinner-theatre show and dance. 
Proceeds from the event will go towards assisting victims and providing mental health first aid to victims. The night includes a 3-course dinner, a show and dance. To book, click here.