LGBTQ+ cruise to set sail from Durban in 2022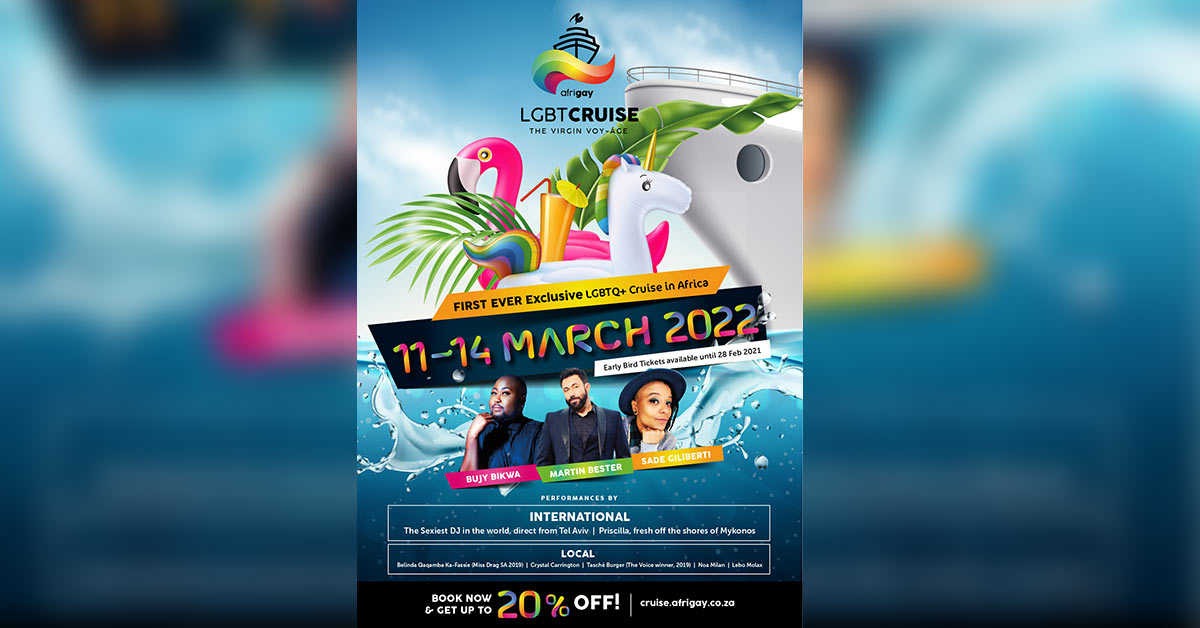 What is said to be the first-ever exclusively LGBTQ+ cruise in Africa is planned to launch next year. Are you on board?
AfriGay Travel has announced that the 3-night cruise will take place on the MSC Musica, setting sail from Durban to Portuguese Island in Mozambique from 11-14 March 2022.
"The 'gay cruise' concept is a hit in North America and Europe, with the very popular Atlantis & Vacaya cruises taking place regularly," said AfriGay Travel's Marketing Consultant, Michael Gladwin.
"We want to bring it to Africa! After all, South Africa has one of the most liberal constitutions in the world with regards to LGBTQ+ rights. We are very excited to work with MSC as we create an event, at sea, that celebrates our LGBTQ+ community."
The AfriGay team have worked tirelessly during lockdown to get the ball rolling on what is set to be SA's largest party at sea. The cruise is open to anyone who identifies in the LGBTQ+ community as well as their friends and allies. Everyone is welcome.
The cruise weekend will be filled with fun, parties on the ship and the beach, drag shows, live music, international DJs and celebs, as well as time to chill and rejuvenate.
AfriGay Travel's "The Virgin Voy-Áge" will have the likes of Metro FM's Bujy Bikwa, Jacaranda FM's Martin Bester and well-known presenter and actor Sade Giliberti hosting and performing on the weekend. Martin's band will also offer a feature performance.
Winner of The Voice SA Taschee Burger, the sexiest international DJ direct from Tel Aviv Pride and superstar Drag Queen Priscilla fresh off the shores of Mykonos will be performing on the cruise.
AfriGay is also bringing on board other amazing local talent like Miss Drag SA 2019 Belinda Qaqamba Ka-Fassie, the inimitable Crystal Carrington and Lebo Molax & The Boys in Heels as featured performances.
Cruise tickets, which start at R6 590 p/p for an indoor cabin, include accommodation, all meals and entertainment.
As members of the International Gay & Lesbian Travel Association (IGLTA), AfriGay Travel has an extensive global network of resources in the travel and tourism industry.
"We are excited to see more offerings for LGBTQ+ travelers coming out of Africa, and particularly proud because this innovative cruise comes from IGLTA Foundation Fellowship Recipient Michael Gladwin," said IGLTA President/CEO John Tanzella. "After this challenging year, it's inspirational to have new LGBTQ+ trips on the horizon."
For booking info visit: http://cruise.afrigay.co.za.