Soweto Pride 2022: All the details
The Forum for the Empowerment of Women (FEW) has announced that the 18th annual Soweto Pride will take place on 24 September at Dorothy Nyembe Park in Dobsonville.
The event, one of the country's major Pride commemorations, will run from 08:00 to 18:00 under the theme of #sisasekhona, which translates to "we are still here" in English.
"The theme is borne from a painful acknowledgement of the rise in hate crimes that spiked during the peak of Covid," said the organisation in a statement. "The theme serves as a reminder to the community within which we as the lesbian, gay, bisexual, transgender and intersex community (LGBTI) exist."
The event will include food and community stalls and entertainment, with live performances by Charne Churchill, Rebbeca Thunderkant, Saula Music, Soweto Sexy Guys, Gina Mabasa, Kink Jah and Siza.
You'll also find DJs LesG, Mkhonto, Imme, Khekhe, Lowkey, Biskit and Puggy on the decks. The day will be emceed by King Luu, Tso Smith, Bongani Drama and Mandisa.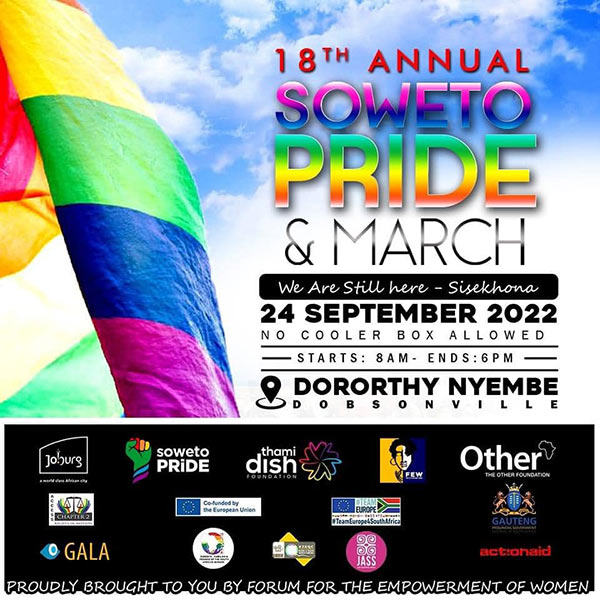 FEW reaffirmed the importance of the protest component of the event and encouraged people to come out in their numbers to march in the township's streets. "Soweto Pride is a space to express our outrage at the violations that we still face in South Africa," said the group.
"The Soweto Pride march highlights the importance of solidarity in ending hate crimes in South Africa and brings attention to the ongoing increase of murder and violence happening within the townships toward the LGBTI community."
Last year's Soweto Pride was one of the only Pride events to take place during Covid-19 lockdown restrictions, with marchers and revellers limited to just 500 people.
SOWETO PRIDE 2022
Date: Sat 24 September 2022
Time: 08:00 – 18:00 (March starts at 09:00)
Venue: Dorothy Nyembe Park
Entry: No entry fee
Note: No cooler boxes allowed
More Details: Facebook event page