Pretoria Pride 2022: All the details
The 8th annual Pretoria Pride returns to Centurion for a day of LGBTQ+ visibility and festivities on Saturday the 1st of October 2022.
Pretoria's biggest queer event is this year being held under the theme of "This is Me", a defiant assertion of our diversity as uniquely queer individuals.
The 2022 edition will return to the larger Centurion Rugby Club venue after last year's smaller event at Presley's in Lynnwood.
With the lifting of all Covid-19 restrictions, the organisers promise a bigger and better Pride, with larger bars and a VIP section that will offer additional seating and its own tented area.
The event starts at 09:00 and the party will run into the night till 23:00. The parade kicks off at 13:00, so come march to make our community's loud and proud presence felt in the streets of Centurion !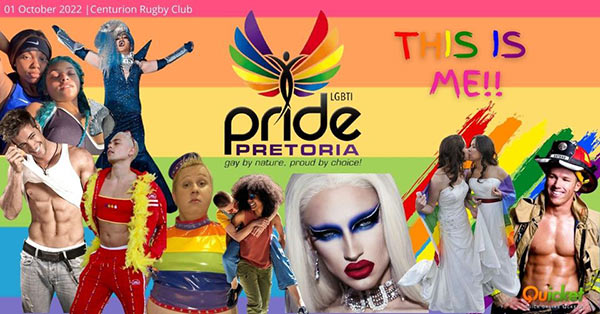 Don't forget the sunscreen, a hat, cap or wig, and your rainbow flag!
The newly crowned Mr and Miss Gay Pride Pretoria, Marco Prins and Larissa Vee Jones will be in attendance.
A host of performers and DJs will keep the crowd entertained and dancing, with a bevvy of drag talent on show.
Don't forget that you can take the Gautrain to Pride (get off at the Centurion Station) with trains running at 20min intervals from 09H00 to 20H00 on the 1st of October.
Standard entry is R50 and VIP access is R135 online and R150 on the day. Tickets are now available on Quicket here.
Pretoria Pride is organised by a volunteer board and is open to anyone from various sectors of the LGBTQ+ community.
PRETORIA PRIDE 2022
Date: Sat 1 October 2022
Time: 09:00 – 23:00 (Parade at 13:00)
Venue: Centurion Rugby Club
Tickets: R50 entry, R135 VIP access. Click here
More Details: Official Facebook page