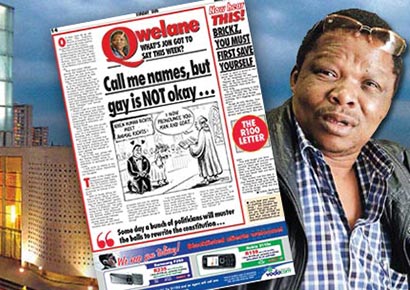 The Sunday Independent has reported that homophobe Jon Qwelane is already in Uganda to take up his role as high commissioner for South Africa, news described by one group as a "F*** you" by President Zuma to South Africa's pink community.
This comes after numerous human rights groups and the DA called on Zuma not to appoint Qwelane to the position in light of his publicly-expressed homophobia and Ugada's pending anti-gay bill.
The Sunday Independent said that Qwelane – who was a vocal supporter of Zuma's presidential ambitions – "quietly sneaked into Kampala during President Jacob Zuma's state visit" two weeks ago, a fact which has "shocked" Uganda gay rights groups.
"How do you bring a very homophobic person to lead a diplomatic institution in a place where there is a lot of violation and discrimination of (gay and lesbian) people?" asked Julian Pepe Onziema, programmes co-ordinator for Sexual Minorities Uganda (SMUG).
"Despite protests and appeals in two countries and despite the desperate situation of the pink community in Uganda, Zuma still goes through with it?," commented a shocked Christina Engela from the South African Gay & Lesbian Alliance Against Defamation (SA GLAAD).
"Is this not the President and government's tacit way of saying to the pink community of South Africa (and Uganda): 'F*** you'?"
Qwelane is facing hate speech charges in the Equality Court related to his 2008 article, published in the Sunday Sun, in which he compared homosexuality to bestiality and urged politicians to remove the sexual orientation equality clause from the Constitution.
In March, the Human Right Commission confirmed that Qwelane had not been traced by the Equality Court in order to serve him with legal papers, although papers had been served on Media 24, the publishers of the Sunday Sun.
While it remains unclear if Qwelane has yet been reached by the Equality Court, SA GLAAD said that it had learned that Media24 is challenging the case against it not only on merit but the media conglomerate is also challenging the validity of the Promotion of Equality and Prevention of Unfair Discrimination Act.
This act is the basis on which most complaints of sexual orientation and gender discrimination are lodged with the Broadcasting Complaints Commission, the Press Ombudsman and the SA Human Rights Commission.
SA GLAAD noted that this challenge could take years to resolve, possibly going as far as the Constitutional Court, which would see the case against Qwelane and Media 24 effectively suspended until the matter is resolved.
"It is a sad day indeed when a media conglomerate which owns enough of South Africa's news industry to warrant thinking of it as a monopoly, indirectly attacks the Constitution by brazenly questioning an Act envisaged in section 9 of the Bill of Rights," said the organisation.