GUGULETHU CELEBRATES PRIDE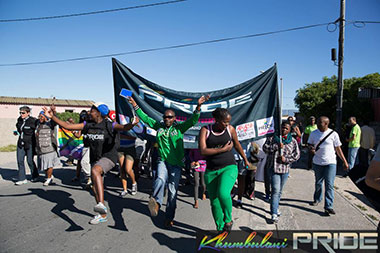 The first-ever Khumbulani Pride event took place on Saturday in Gugulethu, the site of numerous hate crime attacks against lesbian women.
The event started with a march from the Fezeka Municipal Building at 10am.
The around 250 participants then walked through the main streets of Gugulethu and neighbouring Nyanga.
They held up banners and placards demanding LGBT rights and handed out pamphlets to passersby highlighting the plight of the LGBT community in the area and honouring the victims of hate crimes.
The procession ended at the Nyanga Sports Centre where there was food and drink on offer.
Numerous NGOs also had stalls at the centre while local DJs, drag artists and poets performed on stage.
According to Matthew Van As from Cape Town Pride, Khumbulani Pride means "Remembrance Pride".
It aims to "remember the LGBTIQA people murdered and killed over the last few years," he said.
He told Mambaonline that the event was spearheaded by Cape Town Pride after it was approached by a number of community groups and NGOs to do so.
"It was an amazing event," said Van As. "It was the community getting together and expressing themselves."
He added: "It will definitely be a yearly event. It is a way of showing advocacy and highlighting what is happening in our communities."
In February, a march organised by Free Gender, a local lesbian rights organisation, demanded justice for Millicent Gaika, whose brutal rapist remains free.
On 3 April 2010, Gaika was raped, beaten and strangled over a five hour period.  She survived, and her attacker Andile Ngcoza was arrested and found guilty.
However, while out on just R60 bail, he failed to appear in court for sentencing and has not been seen since.
While some residents expressed their support during the February protest, participants also received condemnation and verbal abuse by others, something which Van As said was not evident on Saturday.
*Pictures by David Lee, courtesy of Cape Town Pride.