MOTORING: BMW'S BUDGET 'SUPERCAR'?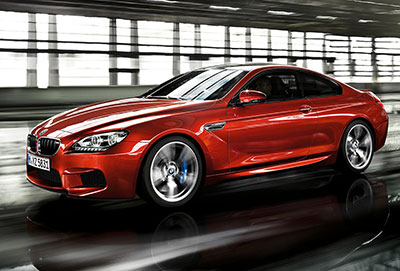 The new BMW M6 Coupe is something of an understated hero. The last version, which is still a rare sight on South African roads, had a wailing V10 engine, a carbon fibre roof and wheels big enough to roll Sandton City into Pretoria.
The new, second generation, seems to make a bit less noise, though. The body is less shouty, the noise less angry. The price isn't that scary either. I mean, at a few bob shy of R1.5 million it's not exactly budget-friendly, but, as I discovered the more I drove this car, it's actually exceptional value for money. It's BMW's budget 'supercar', and here's why…
Firstly, it looks fantastic. Available in Gran Coupe (four-door) or in convertible guise as well, the M6 Coupe is a mass of understated German brilliance. In fact, you might confuse a normal 640d Coupe with the optional M Sports package fitted, for an M6. Not nearly as in-your-face as the last model. Finished in white as my test unit was, the contrast between the body and the sculpted carbon fibre roof was majestic; the 19-inch polished wheels, with their blue-painted brake callipers shining through, finishing it all off with a nice touch. To be honest, however, it's difficult to tell an M6 at a quick glance from its lesser siblings – perhaps only untrue for the rear, where four chrome exhaust outlets framed by the chiselled rear diffuser are a dead giveaway.
The interior, while making no bones about its sporty business, is basically the same as that of any other 6 Series model, except for the lashings of real carbon fibre and leather. Everywhere. In fact, the only really obvious way of telling this is an M6 is by looking at the gear lever or steering wheel. The latter is probably the most
beautiful directional input device in the world, the former being a superbly sporty little thing, and I say 'little' because it really is dainty. It's odd too, with an unconventional shift pattern and one glaring omission: there is no 'P'.
I kid you not, the M6's automatic gearbox does not have a park mode – or at least you can't activate it yourself. Despite my best efforts and a bit of RTFM (read the f-ing manual), I gave up and just allowed the car to activate Park on its own, when turning it off. Something to get used to.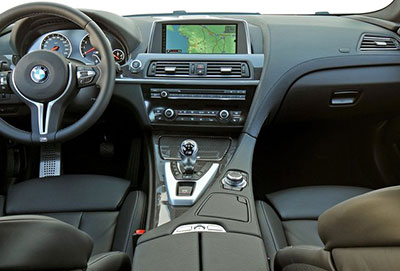 All of the above however becomes completely obsolete the moment you turn this car on. It barks into life with a strange sound track – one you definitely wouldn't associate with a V8. Yes, V8 – the old V10 is gone thanks to European emissions regulations and in its place sits a 4.4-litre, twin-turbocharged V8 which produces 412 kW and 680 Nm of torque. That's quite a lot, but just in case you really want to poo yourself, you can opt for the competition package (it's an additional R110 000, so I'm guessing you won't) which ups the power to 423 kW and brings the 0-100 km/h sprint time down by 0.1 seconds to 4.1 seconds. Okay, I know, not
quite the 3-point-something-ridiculous of supercars like a McLaren 12C or Ferrari 458 but trust me, in the real world they are all just as fast as one another.
Speed is both the M6 Coupe's best friend and worst enemy. This is an insanely fast car and will make you shiver with excitement every time you go near the loud pedal. However, it becomes rather scary because it's so damn quick. Besides that, flooring it from standstill with the traction control switched very on (like any sane individual should) results in most of the power being reduced to nothing thanks to the rear tyres wanting to spin themselves crazy. You end up gaining ground at such a ferocious pace once the laws of physics have been obeyed that you may as well just drive around already handcuffed. Honestly, blink and you'll be doing over 200 km/h. Turning the traction control even slightly off does of course reduce its interference but unless you have a direct line to God, I don't recommend this.
One thing I really adored about this car was its fantastic gearbox. It's a seven-speed M-DCT dual-clutch automatic and that in itself speaks volumes. If you've ever been in a VW with DSG, you'll know how smooth a dual-clutch 'box can be. Shove 412 kW through the cogs however and things get really exciting. And, in true BMW M tradition, you can adjust the gearbox' ferocity to suit your mood, whether you're having fun in full auto mode or you want to shred the tarmac under manual control. In full manual mode with the shifts at their most axe-murderer-ish, it's like you're part of the controls to a machine gun. Your spine shatters with every shift, you feel every road undulation – you feel alive.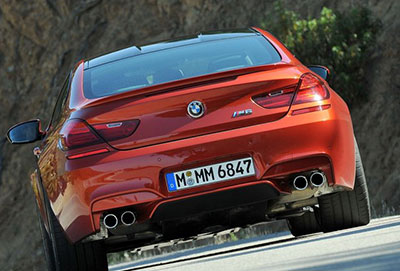 And yet, somehow not; it's just as mind-blowingly fast in normal mode. Because the noise you hear is a bit fake – I'm not joking, the sound system basically pipes engine noise into the cabin to liven it up – and because you can change between pre-set M driving settings (I called them Maniac 1 and Maniac 2) from the steering wheel, it's almost too easy. Too easy to beat the Porsche next to you in traffic.
If you weigh it up against 'supercar' competition, the M6 Coupe makes a whole lot of cents. Cheaper and faster than the Porsche 911 Carrera S PDK and the Audi R8 V8, the M6 Coupe is even cheaper than 'normal' fast cars like the Jaguar XKR-S and the new Merc SL500 I reviewed not too long ago. Although of course, if you're shopping for a car whose price ends in 'million', I should think you're not strapped for cash and that it doesn't really matter.
The point, then, is that the new M6 is like a classy, hard-to-tell-the-difference drag queen. Subtle make-up and a tight little dress. Mile-long legs and a busty bosom. But with a very deep voice and super-fast reactions when you grab it by the balls. Fiesty, with a capital 'F'.