UWC STUDENTS ASSERT GAY RIGHTS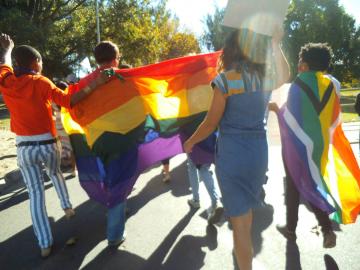 On Monday, student organisations at the University of the Western Cape (UWC) launched an awareness week called "From the same soil."
Volunteers, students and members of organisations from within and outside the university painted the campus with a multitude of colours as they marched around the university to kick off the LGBTI Awareness Campaign.
Groups that attended the event included Loud Enuf, Rainbow from the University of Cape Town, GAYLA and Free Gender. There was poetry, singing, comedy and rapping, accompanied by Drag Queens and Kings.
Campaigners wore T-shirts on which the logo and slogan of the theme was printed and put up LGBTI related posters around the university. The event organisers also held workshops and discussions with the campus community.
Bianca Van Rooi, spokesperson for the event, said: "We chose this title and concept because we as the LGBTI students have experienced that homosexuality, bisexuality and trangenderism is still perceived as being un-African by the campus community at large, and viewed as an ideology brought by Western culture".
"We also noticed that this perception which is held by the campus community, mainly heterosexuals, encourages a lot of prejudice towards the LGBTI community", she said.
The campaign hopes to highlight that "we as Africans are rooted from the same soil regardless of our sexual orientation, gender identity or preferences. The aim of these events is to allow equal participation and engagement between non-LGBTI students and LGBTI."
"We would also like to involve the staff at UWC and identify their role in respecting the sexual diversity of students and upholding professional behaviour regardless of their personal beliefs, especially in environments such as the campus clinic and student support services", said Van Rooi.
Source: GroundUp / CC BY-ND 3.0