REVIEW: QUEEN AT THE BALLET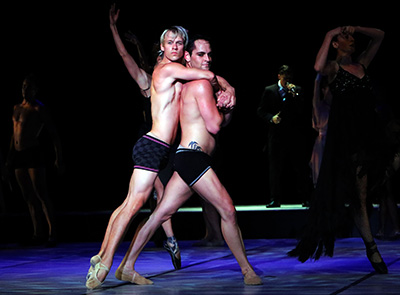 This past week saw the opening of Sean Bovim's much publicised and highly anticipated Queen at the Ballet at the Joburg Theatre.
After a sell out season in Cape Town, I'd been looking forward to experiencing this homegrown production for myself to see what the fuss was about.
The show uses Queen's songs to create a modern ballet of a type that also incorporates elements of hip hop and ballroom.
It tells the story of Freddie Mercury's life with his male partner and his former girlfriend, who became a lifelong friend; a love triangle of sorts.
The concept sounds like something of a car crash, but it's been transformed into one that you just can't stop yourself from watching.
Cito (of WONDERboom & Jesus Christ Superstar fame) provides the vocals for Mercury's songs, but I wasn't too impressed. The late singer's performances were so powerful and I didn't think Cito was vocally up to it.
The show could also have benefited from making use of more of Queen's better known hits – especially in the first half. Growing up in the 80s, I would have enjoyed connecting with a few more recognisable songs. More of the hits do come later, though.
Guest vocalist Angela Kilian (Sunset Boulevard & Evita) for example, absolutely killed Barcelona in the second act – giving the audience exactly what they wanted to see and hear.
When it comes to dance, we were treated to the talents of male lead Henk Opperman. This young dancer from Bloemfontein is just 23 and he told me that he's only been training in ballet for a six years.
It's clear that he lacks experience and technical expertise as a ballet dancer, but his stage presence more than makes up for the shortfall. He's a great performer to watch.
Saying that, don't expect to see a Freddie Mercury impersonator, that's not what the show is about. It's also, thankfully, not another of those Queen tribute shows.
Opperman said that he has great ambition to dance around the world with the best of the best, mentioning that he would love to dance for the revered Netherlands Dance Theatre.
The other dancers worked their butts off in the show, and they needed to; some of the boys finding the choreography a little out of their league and trying their best to stay on their feet. Unforgivably, a female corp dancer actually did have a trip.
Bovim's choreography was at times repetitive and lacking the edge needed to fuse such different types of choreography, but it's a good attempt and it's always great to see new and innovative works on the stage.
"We don't get enough new stuff here in South Africa," said Opperman. And that's possibly why you can see why the audience lapped it up.
One of Bovim's greatest achievements is managing to source 25 dancers for the show, being able to produce such a performance, and make some cash from it.
Queen at the Ballet may be at times lacking in the technical department, but it is worth going to see. It's proudly South African and a definite crowd pleaser.
Queen at the Ballet is on at the Joburg Theatre until 13 April.