Motoring: Suzuki Jimny 1.3 Auto – Everyone loves a Jimny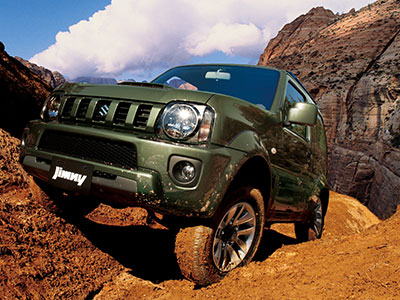 It doesn't matter who you are or where you look, it's difficult to find anyone who doesn't like the Suzuki Jimny.
I love it. On road or off, parking at the mall or tackling some seriously rough terrain, the Jimny's ability to charm its way into your heart is possibly its most endearing feature. 
But there's no point beginning a review with what is a simplistic conclusion… what is it that makes everyone fall in love with this humble little 4×4 Suzuki?
Firstly, it's instantly recognisable. Cute and compact, with a touch of "can-do" attitude, the Jimny has a timeless design that invokes the spirit of its classic SJ forbear in a retro-modern flux. A couple of years ago it benefitted from the fitment of a new-design 15-inch wheel in dark grey, which – with the roof rails, chunky wheel arch extensions and faux bonnet scoop on the latter models – really adds a bit of attitude.
As much as it looks diminutive from the outside (it's a mere 3,5 m long and 1,6 m wide), it's also so on the inside. You'll have to mind your elbows when you close the door as the interior is narrow. However, there is an abundance of headroom and two can squeeze into the rear. Likewise, the boot (accessed by a large side-hinged door) measures a mere 113 l. There is, though, no rear parcel shelf or cargo cover to keep goods out of sight. With the rear seats folded, maximum volume is a more commodious 816 l.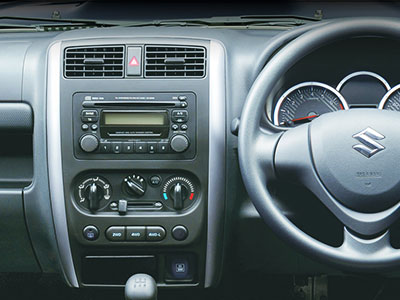 Similarly diminutive is the Jimny's 1,3-litre engine. It only produces 63 kW power and 110 Nm torque and, on our test unit, drive was sent through a four-speed automatic gearbox. Naturally, performance is relatively smooth and relaxed. It doesn't even fare too badly on the freeway … so long as you keep in the left-hand lane.
However, as the saying goes: it's not the size that counts, but how you use it… and the Jimny knows how to use it. Off-road enthusiasts will be staggered at what this little mite is capable off. Engage the four-wheel drive and it goes over, through or around anything it encounters with the enthusiasm of a small, excited dog trying to chase down a ball.
On road, too, the Jimny rides with compliance and handles surprisingly well, given its combination of height, narrow width and short wheelbase. The soft, comfy seats and commanding driving position help, too.
As you'd probably expect, the Jimny's spec level includes few superfluous fripperies. A double-din aftermarket sound system (with all the necessary connection options) is fitted that plays through only two front speakers, while electric windows and mirrors, ABS brakes, dual airbags, air-con, central locking and an immobiliser are standard. Everything you need, nothing you don't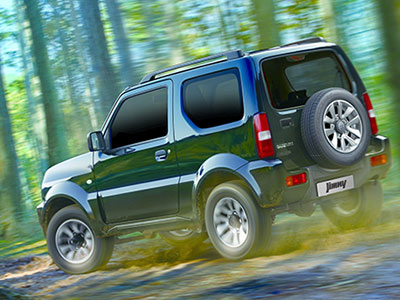 Given the Jimny's size, performance and spec level, you'd probably think that R264 900 (including a three-year/100 000 km warranty, as well as a four-year/60 000 km service plan) for the auto model is a steep price to pay.
But, trust me on this, it's not. The Jimny's small size is a boon in town and when trying to place it accurately on a tricky off-road route. The small engine and autobox combo forces you to change your driving style – instead of trying to join the rat race, you sit back with a smile on your face and wonder: really, what's the point? The Jimny is also the most capable 4×4 you can buy for the money (some would say that's mild praise).
It's well made, perfectly useable day to day (if you don't need much luggage space) and everybody who drove it or took to the passenger seat came away smitten. Jimny is charming and lots of fun – it's just so cool.