Motoring: A Cheeky Renault Clio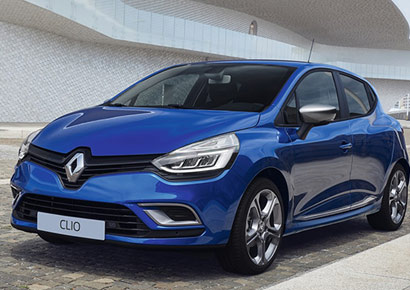 The Renault Clio has been a player in its segment since first entering the local market in its second generation during the 90s.
The fourth generation has just received a facelift (which Renault aficionados will refer to as the phase 2) and the subject of this review is the top of the non-RenaultSport range; the Clio GT-Line.
This little mite is a strange one – it features all the requisite hot-hatch go-faster bits, but doesn't quite offer the go-faster power. That doesn't mean it's a lost cause, though. There is a rather cheeky point to it…
You see, your average hot hatch today – the full-on RenaultSport Clio, for example – is a rather manic beast. They produce the kind of power that'll make your eyes widen very much indeed and they've benefitted from chassis tuning that's designed for leech-like levels of grip. The result is performance that one would've expected of some very expensive machinery only a little more than a decade ago, and – for most on sale today – a therefore slightly compromised ride when it comes to the daily grind.
With the Clio GT-Line you still get the all the eye-catching details; there's a more aggressive front bumper and a sporty diffuser in the rear bumper that also frames a wide, rectangular exhaust tip. At the top of the car there's a subtle roof spoiler and, lower to the ground, a set of slim 'n sexy 17-inch titanium-grey alloys. The titanium grey accents are carried through to the door protectors and mirrors, and also highlight those GT-Line bumpers.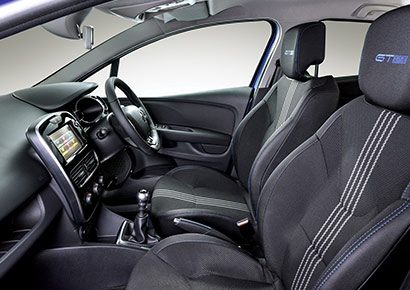 All this in addition to the sexy new light clusters (full LED technology at the front) and other minor styling tweaks that the Clio phase 2 has received. The overall redesign is actually very subtle – it needn't have been anything more because Renault really got it right with Clio 4 from the beginning.
Keeping with the sporty theme, the interior also features some RenaultSport influence … you'll immediately notice the deep and low-slung front sport seats, RS leather steering wheel and aluminium gear knob. There's some blue stitching and "GT-Line" badging here and there to add a bit more spice to the cabin.
What the GT-Line offers, then, is all the attitude, but with more traffic-friendly performance… That's because power comes from a, well, small, 1,2-litre engine. Thankfully it's turbocharged and therefore produces 88 kW of power and a decent 205 Nm of torque to thrust you along. The straight line performance won't light your pants on fire – it'll only reach 100 km/h in nine seconds – but there's more than enough in reserve to zip through traffic by rowing through the superbly satisfying six-speed gearbox.
Oh, yeah, that's another thing – unlike most real hot hatches that now only come with some sort of self-shifting gearbox, the Clio GT-Line has mighty-fine manual that can only be criticised due to the long clutch travel. But it's a manual hatchback with sporty pretences, and that's good enough!
As for the rest of the drive, the ride and handling will give you a bit of a grin when you want to toss it about a bit (it only weighs a tonne, which adds to the tossability) and will leave you feeling perfectly comfy when you don't.
The rest of the GT-Line offering is typical Clio – there's a seven-inch MediaNav touchscreen infotainment system; anti-lock brakes with electronic brakeforce distribution and emergency braking assist; electronic stability control; a brace of airbags (it has a five-star NCAP safety rating); cruise control; keyless entry and start; auto lights and wipers; a large, deep boot and space enough for four adults.
Is it affordable? At R264 900 it's in the same ballpark as its main rivals and Renault offers an impressive five-year/150 000 km mechanical warranty and six-year anti-corrosion warranty, while a less impressive three-year/45 000 km service plan is standard. Renault also claims that it'll only use 5,3 litres of unleaded per 100 km (there's an Eco mode to aid your efforts, though this is completely contrary to the character of the car…).
So, what's the verdict? Well, it's not the most-sporty feeling non-sporty sporty hatch you can buy at the price. However, it does offer a great day-to-day compromise for the driver that doesn't want to go tearing up country roads on the weekend, but would like something that's a bit more special to look at. From that perspective it hits the mark. It's no hot hatch … but it is a cheeky one.