Queer voices: Will I be voting in these elections?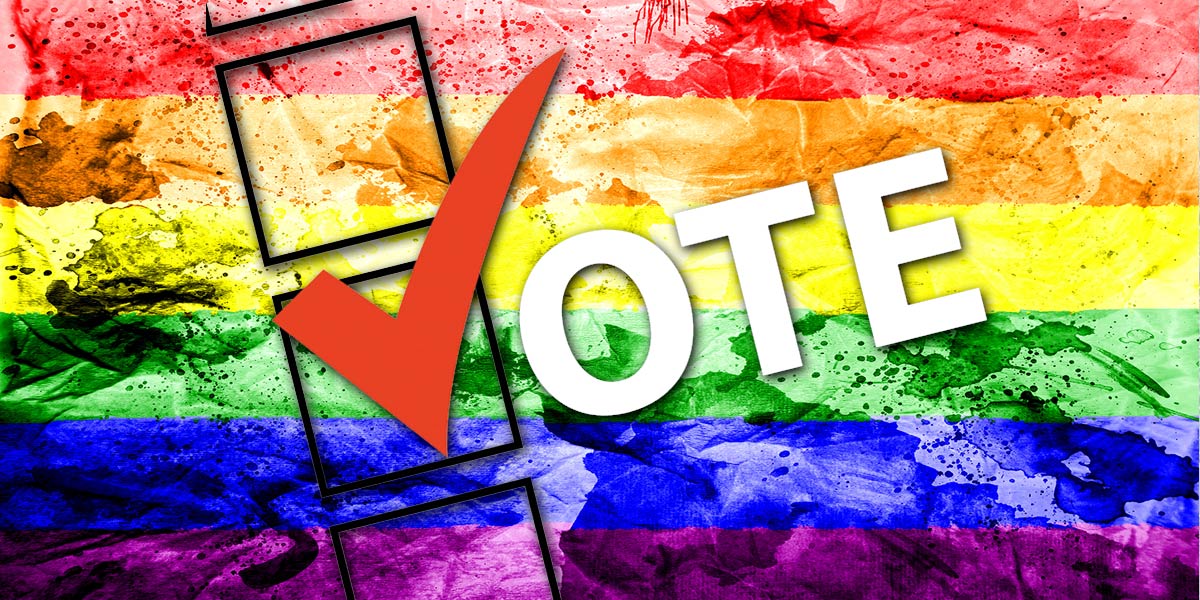 South Africa is headed to the polls on 8 May for the general elections. These are highly contested, with 48 parties taking part in the national and provincial polls. A number of parties have included LGBTQ+ issues in their election manifestos.
According to the IEC, about 27 million South Africans are registered to votes with 703 794 new voters added to the voters' roll ahead of this year's elections. More than 80% of these registered voters are younger than 30.
With so many parties vying for the public's support (including LGBTQ voters), MambaOnline spoke to young queer voices and discovered that many are disillusioned and not planning to participate at all. Here's what they had to say.
Lethabo, 24, queer, Pretoria
Initially, I had fallen to this apathetic trope because I generally thought that there was no party that had the range to deliver on the core needs of this country, especially as a queer body living in South Africa and a black woman living in this country considering the shocking statistics of femicide. And also not forgetting South Africa is one of the rape capitals of the world and no one sees the war that is performed on women's bodies. Even if it was campaigning ploy, but it would have been interesting to see at least one party rallying around protecting the bodies of women and highlighting that women and queer people and everyone else who exists in the margins have agency. I am not voting. I do, however, regret not registering to vote because I feel like I would have personally maybe voted for one of the smaller parties, like the Congress of the People (COPE) because of they also helped fight for LGBTQIA+ recognition compared to these major parties like the African National Congress and the Economic Freedom Fighters (EFF).
Rudolph, 23, gay, Bloemfontein
This is so funny because I am not voting 'cause I am just not interested. Like it's just one of those things that I do not find important. It does not interest me one bit. Maybe it's cause I have more pressing issues am dealing with at the moment or simply because I am too lazy to go out register to vote, then go again to actually vote but I am just not having any of it. Nope, not even my parents are voting. Gurl you know I am always locked in the house, who'd I know? I am not registered to vote and I have never voted before. From a viewpoint of the LGBT community I am not aware of any party that has an LGBT individual in their high ranks so how can you expect someone that doesn't know the struggles faced by the LGBT community to cater to the needs of an LGBT individual?
JJ, 23, gay, Pretoria
I am definitely voting. It is important in the election next week because everybody in our rainbow nation has a voice and the right to be heard. Your tick in that box is lending your voice to what you believe in. I have always known that I am gay but I have always wanted to have kids of my own. Still have to find the husband but it will happen when it will. I want my children to have equal opportunities. Change is only possible if you are part of the solution.
Siyamthanda, 24, lesbian, Khayelitsha
I think these elections are highly contested; there are a lot of political parties running and that goes to show that many people are finding the ANC shouldn't be the only option for the citizens of this country. I think these will be very interesting elections because it may seem like the ruling party is going to lose a lot of votes and we are bound to see a huge change in the governing structure of the country. I am voting. I am voting for change in this country and I will be voting for the Economic Freedom Fighters (EFF) because I believe that they are an alternative voice that speaks to the issues of the youth, the poor and young graduates. While not voting is also a political act, my voting is also a political act because I am tired of complaining and not doing anything about my complaints because one vote goes a long way.
Simon, 24, gay, Johannesburg
I am gay and from Durban but I have been living in Johannesburg for the last year and a half. I have voted every year since I was able to but I am embarrassed to say that I will not be able to vote due to the fact that I will be out of town. I will also admit that I haven't changed my details yet and also not registered to vote in Joburg. I do think it is important because many people I know have said that they are not voting and that it will not make a difference anyway. The problem is that if you have 1000 people who think like that it does make a difference in the end.
Sibusiso, 25, gay, Pietermaritzburg
It feels like another election process where we have to deal with election people putting up a show, telling us lies, promising things that they are not going to do and that's really annoying because they're only coming out now to visit people's houses and it makes you realise that these people do have time to visit people's houses and inspecting community needs but they choose not to and that is really frustrating. We are at a point where you are damned if you do vote and you are damned if you do not vote and at this point, voting seems like picking the better or the worst apples in the sack. I am definitely voting but I want to spoil my vote because there is really no one worth my vote, especially as an LBTQIA+ member. No one speaks to my livelihood in terms of me being a back queer man in South Africa. I then constantly ask myself then what is the point of voting if I am not fully benefiting.
Vusumzi Mvelase, 23, gay, Durban
I think these elections are going to be very interesting. I am interested in seeing how the votes are going to be distributed amongst the provinces. Personally, I am not voting. It's a decision I took because I don't see myself and my struggles fully encompassed in any of these political parties, especially with the major political parties. We know that the ANC has never been here for people like me; those who are queer. They have proven themselves to not being allies of the queer community. I am not voting for anything that is not worth anything that I am. It's a waste of time. I can't trust the DA seeing how they treat people in the Western Cape.
Luke, 23, gay, Johannesburg
I do not believe that people should be allowed to complain about the government unless they vote. As a person who likes to complain, I see it as my responsibility to vote until there is nothing left to complain about.
Sikhona, 23, queer, Grahamstown
There isn't a party that I truly trust or buy into. There's no political party that represents me and my politics or ethos as a black queer woman. I've felt guilty about not wanting to vote for a very long time and considered voting for the least bad party, which is the EFF to me. Many people are voting like that too, and it's an understandable choice, particularly when it comes to queer people and feminists. The problem, for me, is the idea that voting is the end goal of political engagement, and it is the only valid way to make your voice and make a change. Voting doesn't necessarily change the current system. In fact, it maintains it because party politics play a huge role in upholding and legitimising hierarchies. Political engagement isn't just about voting. Voting is just a sanctioned and controlled version of political engagement. It's deliberately sold to us as the only valid way to make a change precisely because it doesn't threaten those in power. Political parties play on people's real desires for change and then manipulate us into thinking the only valid form of expressing dissent is in the ballot box. Even when political parties are truly concerned about the well-being of South Africans, there's always an element of disingenuity. So I think we just need to reconceptualise what democracy looks. Rethink party politics or dismantle it altogether. Short of that, at least having a truly participatory democracy where people's voices feed through to authentic representation.
Voxes have been edited for brevity and clarity.