Love Letter to Simon Nkoli on his birthday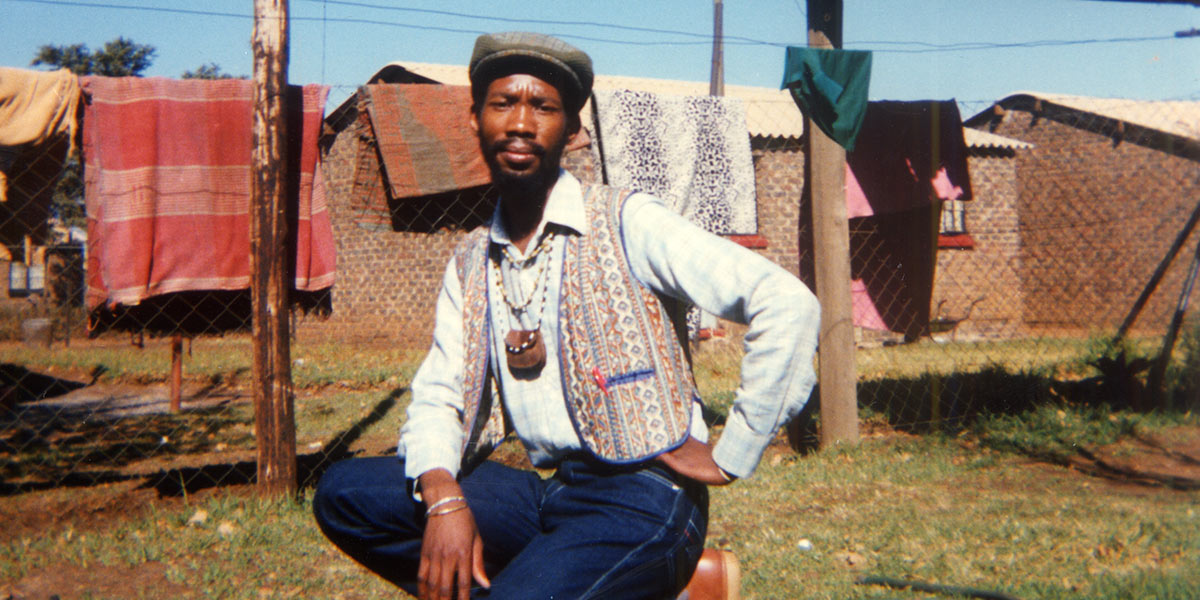 This week marks both the birth (26 November 1957) and the death (30 November 1998) of arguably South Africa's most influential queer activist, Simon Nkoli.
He was one of the first black anti-apartheid activists to come out as gay and HIV positive and fought tirelessly for the inclusion of gay and lesbian rights in the Constitution. Nkoli also started the first black gay organisation in Africa and was one of the organisers of the continent's first Gay and Lesbian Pride March in Johannesburg in 1990.
Mpho Buntse, the co-founder of the annual Simon Nkoli Memorial Lecture and National Spokesperson for the Embrace Diversity Movement, wrote this letter to Nkoli to commemorate his life.
Dear Simon,
This week you would have grown a year older, you would have added one more visionary year of experience and contribution to our community, but alas, do continue to rest well.
Continue to rest well because your legacy lives on. You probably know that. On your birthday, the world still celebrates your contributions towards queer freedom, HIV/AIDS advocacy and intersectionality politics. Many are eager to explore your complex form of activism through academia and social barometers and are simply curious to learn how you managed to do it all, especially during that time.
Over the past few months I have learnt so much about you. Your mother is such a queen. She speaks a lot about you and I should tell you, she's a walking encyclopaedia about your life. Every time she speaks about your affairs with random white guys, she laughs. She has the memory of each and every one of them and how they would spoil her just to get her affection as a potential son-in-law.
She's still keeping every piece of furniture and cutlery you owned, the many international awards you brought home (you have keys to many world cities). The memories of you during COSAS days, Sharpeville, Justice for Biko campaigns are still fresh to her. At her age, you'd expect her to be subjected to ill health, but Si, she's a strong woman running a household. Your sister hardly talks, she's an introvert. But she likes to laugh; that's how I can tell that your memory makes her happy.
Ncotsho Pakade and I started a memorial lecture to honour and preserve your legacy. We have not met you personally, but over the past 7 years, we have come to highlight your legacy. We have engaged with you through your spirit and, thanks to Albert Silindokuhle Ibokwe Khoza, that we have connected with you. Your family is now our family.
MaNkoli says I remind her of you, do I? Or she just missed you… She's giving me the toughest responsibility to continue inspiring change for queers, as you did. A challenge I have taken on. I hope I don't disappoint you.
Knowing the real you through MaNkoli has strengthened my activism and passion for your work. I practice it through the continued engagement, similar to that you had, with MyANC with the late Nelson Mandela, Cde Phumi Mtetwa and many other comrades you led in your change.
I have traced and engaged most of your friends, comrades and family and all have said you were an amazing person. There was never a dull moment when you were around, reclaiming spaces and always laughing and making everyone around you smile or laugh. Your bestie is a doctor now and she's been an integral and incredible source for telling your history and story. Yes, Dr Bev Ditsie speaks highly of you Si. She's still grounded in your movement, she tells your story of resilience, Pride and affirmation in the face of the struggle.
Everyone is stronger, stronger because we live in a future that you carved. Not just for us as queer people, but for many people who continually face victimisation because of what defines them differently. I am sure you know that the struggle is not completely won, but we are doing well compared to many of our counterparts. You should be proud of yourself.
By the way, Musioua Lekota went on to start his own party called COPE. It's been doing well in driving a queer narrative in parliament. Popo Molefe is moving between SOEs. Adv Gcina Malindi came to our 2018 lecture and he's also been really key in sharing with us about you during Delmas Treason Trial.
The LGBTIQ (and we are a plus now, in the awareness that sexuality and queer organising is broad) celebrates you in many different ways. The Feather Awards SA have an award dedicated to your work as a queer activist. They recently gave it to your friend, Justice Edwin Cameron. We were all there to celebrate with him; his acceptance speech took everyone down memory lane about your resilience. Oh, and he recently retired from the bench.
Your annual lecture has a footprint at the University of Johannesburg, University of Pretoria and the University of Stellenbosch and has had a permanent home at Constitution Hill (we all suspect that you may have been detained here at some point, we still aim to confirm this).
As I reflect with you on your birthday, I reflect on the beauty, pain and sacrifice you made. Aubuti (your mom tells me, this is the name that everyone called you by at home), your work has defined our status quo…
And I wonder what drama you are causing up there…
Mpho