LGBTQ circus star Cassandra Stone fondly remembered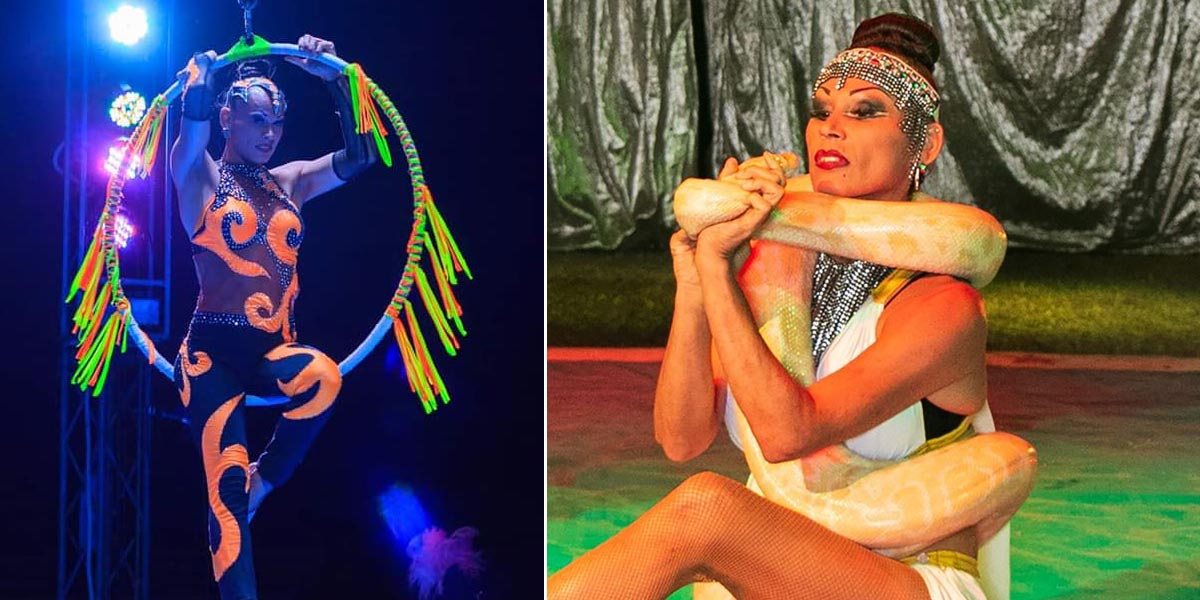 Cassandra Stone, a much-loved South African transgender circus and drag star who performed internationally, has passed away.
Stone, 44, died from complications related to meningitis. She was well known for her skilled circus acts and her drag performances at gay clubs around the country. She often performed with pythons and, at one point, alligators.
Stone was a gymnast throughout high school and started her circus career through Brian Circus in 1995. She went on to perform at Boswell Wilkie Circus, Gold Reef City, Sun City and, from 2005, at McLaren Circus, as well as in several productions overseas and at numerous events and shows.
Close friend Leon McLinden remembered first encountering her years ago at the Cellar Pub in Boksburg while she was doing a contortion act with her albino python. It's also here where she met her late husband Andre, who was the love of her life.
"Sadly Andre passed away a few years ago and Cassandra never really accepted losing him and till her last days she used to say she just wanted to be with him again," said McLinden. "Cassandra will be truly missed not just within the circus world but as a one in a million friend," he added.
Henk Richards, erstwhile stage director of Stardust Nightclub, remembered Stone fondly. "There are lots of famous people and stars in the entertainment industry… Then there are real stars on and off-stage! Cassandra, your star will always shine bright!" he proclaimed.
Journalist and TV presenter Eagan Williamson, who met Stone in the Pretoria drag scene in the early 2000s, described her as a mesmerising performer who was passionate about entertaining.
"She moved like a snake (one of her many pet-babies) and walked on glass and could swing from chandeliers long before Sia made it a song," Williamson said.
"We used to compete in drag competitions from the beginning. Every drag artist knows the reverence you have for the mother-queen who taught you how to do a proper tuck. Cassandra gave me that rite of passage, showing me the way to have a flawless tuck. I will always remember that moment."
Coenie Kukkuk, attorney and former co-owner of Stardust Nightclubs, said that Stone was "the one and only person I knew who ran away with the circus and made such a triumphant success of it."
Kukkuk noted her love for her animals and her audience and described her as a "shining light" and "one of the most interesting people" he'd met. "The angels are happy one of theirs has returned, custom-made wings and all!"
David McLaren, the owner of McLaren Circus, said that Stone was a versatile performer who mastered many aerial acts including fly trapeze, aerial hoop, single trapeze, and her strongest number, the aerial rope.
"Cas worked illusion and magic, was a great dancer, loved to perform to Shirley Bassey and always made the effort to provide free 'drag performances' to clubs, gay and straight nationwide. She will be sorely missed," McLaren said.
A memorial service for Cassandra Stone will be held on Saturday 10 October at 15:00 at 108 Christine Road, Homelands, Meyerton. Due to Covid-19 regulations, no more than 100 people will be allowed to attend.