Mugabe is gone, but is his successor Emmerson Mnangagwa less homophobic?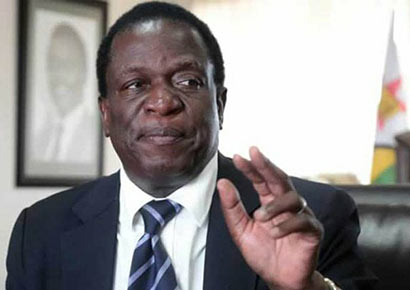 Zimbabwe's new president, Emmerson Mnangagwa, has promised an inclusive democracy, but there are fears he may continue to sideline the LGBT community.
Mnangagwa, 75, was sworn in as president at a ceremony in the national sports stadium in Harare on Friday, making a series of welcome pledges.
"I solemnly promise to the best of my ability that I will serve each and every one who calls Zimbabwe home," he said, insisting that, "all citizens must feel secure and enjoy a sense of belonging in their land."
Earlier this week, he told a cheering crowd that, "we are witnessing the beginning of a new unfolding democracy," and that "no-one is more important than the other. We are all Zimbabweans."
Despite his new commitment to democratic values, Mnangagwa was until very recently a long-time ally of the notoriously homophobic Robert Mugabe, who ruled the country for 37 years.
Mnangagwa was himself implicated in human rights abuses, including as minister of national security during the Gukurahundi massacres  in the 1980s, in which thousands of civilians were killed.
Until he was fired earlier this month, he was the vice president of Zimbabwe, and defended Mugabe's policies and his hateful stance towards LGBT people.
Leading a delegation to the United Nations last year, Mnangagwa rejected outright recommendations to end the country's criminalisation of homosexuality.
"With regards to areas that we felt we would not accept, it is issues of gays and homosexuality, which is unlawful in our country. We rejected all those," he said.
Mnangagwa also falsely claimed – like Mugabe – that the country had been pressured to accept same-sex marriage. He conflated, probably for political reasons, calls for the decriminalisation of homosexuality with calls to legalise same-sex marriage; a particularly sensitive issue on the continent.
"There are a few countries from Europe which recommended we reconsider our position with regard to adults of same-sex marrying each other that we rejected," he stated.
Mnangagwa further described LGBT equality as an attempt "to prescribe 'new rights' that are contrary to our norms, values, traditions and beliefs."
At his inauguration on Friday, Mnangagwa announced that he plans to chart a new course, saying: "I humbly appeal to every one of us to let bygones be bygones."
How, and if, this will include LGBT Zimbabweans remains to be seen.
Zimbabwe's 2013 Constitution expressly bans same-sex marriage but does otherwise provide protections of civil liberties and human rights. Nevertheless, laws criminalising homosexuality, with penalties of up to three years in jail, remain on the statute books and have yet to be challenged in court as unconstitutional.