Kenya | Historic bid to strike down gay ban in court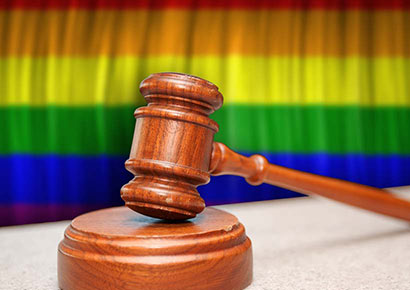 Kenya's High Court will this week hear a historic challenge against colonial-era laws that target the country's LGBT community.
On 22 and 23 February, rights group the Kenyan National Gay and Lesbian Human Rights Commission (NGLHRC) will argue that sections of the Kenyan Penal Code are in breach of the constitution and deny basic rights to Kenyan citizens.
The case, filed in 2016, seeks to strike down sections of the penal code that criminalise consensual same-sex relations between adults.
Eric Gitari, Executive Director of NGLHRC — and the main petitioner — says the laws fuel violence and discrimination against the LGBT community in Kenya.
The NGLHRC has recorded over 1,000 incidents of violations against LGBT people since 2014, including murder, mob violence, rape, blackmail and extortion.
"We receive cases of women who have been brutally beaten and raped because their family or neighbors found out they were lesbian. Or incidents where individuals go to the police seeking help only to have the police attack them," says Gitari.
"In one such case where our client tried to report a robbery, he was pushed into a cell by police officers, forcibly undressed, beaten, choked and had his hair shaved and burnt off because he 'was dressed very gay'. These are not the national values Kenyans aspire to."
Gitaria argues that the discriminatory laws stand in stark contrast to the ideals of the 2010 Constitution of Kenya which guarantees the freedom and dignity of all citizens.
"We have a constitution that carries the will of the Kenyan people and that says no one should be discriminated against, yet these laws do just that."
The disputed provisions were introduced by British colonisers in 1897 and make vague reference to "carnal knowledge against the order of nature" and "gross indecency." Punishment is up to fourteen years in prison.
The Attorney General is expected to defend the laws and claim that they are correct in banning any sexual act that cannot produce offspring, as well as prohibiting sexual contact between men.
"These laws far from being about morality are used to justify discrimination, violence, harassment and invasive intrusion of the private lives of Kenyan citizens," insists Gitari.
Represented by Senior Counsel Paul Muite, a renowned legal figure and fierce advocate for the respect of the Bill of Rights in Kenya, the NGLHRC will argue its case on Thursday at the Milimani Law Courts in Nairobi.
If successful, the petition has the potential to change the tide for LGBT activists and rights group on the African continent as the East African country is seen as a regional leader.
The case will be heard alongside a similar petition brought forward by the Gay and Lesbian Coalition of Kenya (GALCK) and Nyanza Rift Valley and Western Kenya (NYARWEK) LGBT coalition, who are also seeking to have the anti-LGBT provisions declared unconstitutional.