International magazine meets gay men of Cape Town (pics)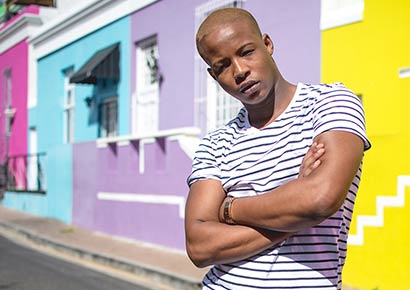 Elska Magazine, a bi-monthly gay photography and culture publication, has travelled to Cape Town for its latest edition.
In it, the Elska team introduces readers to 15 local men who were photographed in their homes and throughout their city in a natural, unairbrushed style.
The photospreads are accompanied by personal stories written by the men to let you get to known them at an intimate level.
Each of Elska's editions is produced in a different city, and this is the first to be made in Africa.
Although most of the men featured were born and bred in Cape Town, some settled there later, as adults, originating from places like Congo, Kenya, and Namibia.
The US-based magazine's editor and chief photographer Liam Campbell said that he found that Cape Town serves as a beacon of safety and freedom for LGBTQ people throughout the region.
"In the beginning I worried that I wouldn't like South Africa, that everything would be tainted with racism", said Campbell, "but after 15 Elska editions, I knew it was time we finally went to Africa.
"The reality proved that things are not perfect, reiterating that it really wasn't that long ago that apartheid ended. However there is a strong mood of hope and an effort to make a society that is fair and righteous. While you can easily see inequity in the society, you can also sense that people care for each other and want South Africa to be a better place for everyone. More than any place Elska has visited, it's here that I saw how much we are all different and all the same."
The stories written by each of the men give some perspective into particularly South African issues. For example, there's Fahad H's story about the challenges of being in a mixed-race coupling; there's Kai B's piece lamenting the lack of queer spaces for black men in particular; and there's Ashley S's discussion of growing up feeling that his skin was too dark, his lips too full, and bum too shapely.
Other stories move beyond issues of race, like JP de C's tale of finding true love at a gay sauna; Jannie B's piece on discovering that he's into much older men; and Terrence D's confessional on being able to finally recognise sexual assault and not downplay it.
Elska Cape Town is 164 pages and is available in a classic collectible print version or in a download version. For more info, visit the Elska website.