SA'S FIRST LESBIAN PREMIER?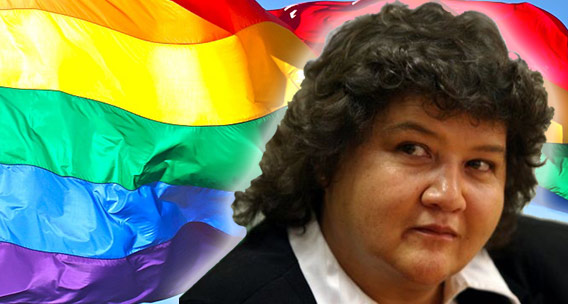 Is Lynne Brown, the newly appointed Western Cape Premier, South Africa's first openly gay provincial leader?
According to Women24 website, the answer is yes. Brown is listed under its "Lesbians We Love" list, along with celebrities such as Ellen DeGeneres, Portia De Rossi, Jodie Foster and Melissa Etheridge.
Sam Wilson, Editor in Chief of Women24 said that she included Brown in the list after she read in the 23 July edition of the Cape Argus that Brown previously had a female partner.
The Cape Argus article, which profiled the new premier, states: "In the same year, she took steps to distance herself from the affairs of her former living partner, travel agent Soraya Beukes, who was one of the accused in the parliamentary travel voucher fraud saga."
"I think it's important to highlight something positive like this, especially in the current climate," said Wilson referring to Jon Qwelane's recent attack on gays and lesbians in his Sunday Sun column.
Asked if she was outing Brown without her consent, Wilson replied: "If it's on the front page of the Cape Argus, then she wasn't in the cupboard in the first place."
However, "living partner" does not necessarily mean lesbian, and in the 2004 statement to which the Cape Argus appears to be referring, Brown only says that Soraya Beukes and her "have been good friends" for the past twenty years.
It remains unclear how Beukes went from "good friends", "to former living partner", to lesbian life partner.
Nevertheless, in his News24 blog on Tuesday about the Cape Argus piece, journalist Chris Roper wrote: "Say what you will about the ANC, and you will, but I find it pretty cool that the new Premier of the Western Cape is a lesbian. At least, I think she's a lesbian."
"[To] have a lesbian in a position of power in the ANC, at the same time that Jon Qwelane is showing the world that he's the secret love-child of Robert Mugabe and Idi Amin (*shudder*), is kind of interesting," he added.
Mambaonline left a message with the premier's spokesperson, Ann Wentzel, for comment, but had not received a response at the time of this article being published.