INTERVIEW: LANCE WEYER, MR. GAY SOUTH AFRICA 2011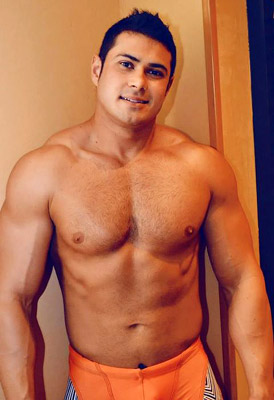 Photo by Kyle Correia De Araujo
Newly crowned Mr. Gay South Africa Lance Weyer was the voting public's favourite contestant in the 2011 competition, undoubtedly thanks to his buff good looks. So, what's the man behind the brawn really like?
Mambaonline got to know more about this 24-year-old university graduate who serves as a DA representative councillor in the Buffalo City Metropolitan Municipality in the Eastern Cape.
He talks to us about coming out, being bullied at school, his boyfriend and how he plans to live up to his commitment to be a role model and representative for the LGBTI community.
Tell us about your coming out…
I hated myself for being gay for many years, and tried my best to hide it. Over time, as I read more about it, I learned to love myself. When I was 19 I started telling friends and when I was 22 I told my parents.
Were your family easily accepting, or did it take time?
It wasn't easy for my parents at first. My dad is very old school, and I still don't think that he fully accepts it, but he does tolerate it. My mom is very religious and thought that I was possessed by the devil. After seeing a GP, psychologist and psychiatrist – who all told her that I was totally normal – she started calming down. It has taken time, but I think she accepts it now and is even becoming close with my partner.
Were you ever bullied at school?
When I was in primary school I was bullied because I was different, but when I got to high school I became much more self confident and assertive as a result of my mother sending me to a psychologist as she could see I was battling. It became much easier from then on. I started playing sports and became involved in cultural activities which made me feel more like I belonged. I ended up being head boy, something I would have never thought possible in primary school. It just shows how all children have potential, all it takes is someone to listen to them.
As everyone's noticed, you clearly work out at the gym. Were you always athletic?
I started working out late in high school, and played first team rugby, so I was reasonably fit. When I started university I ate badly and did hardly any exercise and very quickly ballooned to 33% body fat. I realised that I needed to do something about it, so I got back into the gym and changed my diet. It took a few years, but I'm happy with where I am now. I try to work out five times a week and attend three spinning classes per week for cardio.
What motivated you to enter the Mr. GSA competition?
While spending six months teaching and working as a guidance counsellor at a high school I was exposed to several young gay men. It brought me back to my youth and the thoughts of self-disgust I often had. I think one of the biggest problems for me, particularly growing up in a small conservative town, was that I never saw any gay men around that I could look up to. I thought that the youth needed to see that they can be successful in life, regardless of their sexual orientation. I'm hoping to be a good role model to South African LGBTI youth and hope that they can see that if I can do it, so can they.
Are you concerned that being so public about your sexuality could affect your political career?
I do understand that some conservatives might not like the idea of me being so open about my sexuality, and that many people have criticised that a political representative has won Mr. GSA. For every negative comment there have been hundreds of positive ones, so I'm sure that I'm doing the right thing. As a liberal party, my sexuality has never been a question, and it is one of the reasons I chose that party – it is truly a political home for all. Politically, I think that [my winning] opens new doors into the LGBTI community as in the past there have not been many politicians that have been willing to stand up for LGBTI rights in South Africa. Off the cuff, I can only think of one, namely Ian Ollis, also of the Democratic Alliance. LGBTI people could represent over a million voters, and they deserve for someone to give them a voice in government.
How supportive has the party been about your win?
Very supportive. I've received congratulations and support from provincial and national leadership. Helen Zille even took the time out of her busy schedule to phone me to congratulate me – what an amazing lady!
What kind of response have you had from your constituents and the public?
Most of my constituents in East London have been very supportive. No one has ever said anything negative to my face, although there were two negative letters printed in the newspaper. Interestingly, both writers chose to write as anonymous, which makes me even less interested in entertaining their homophobia. I'm a firm believer that you should always be willing to put your name to a statement.
How long have you and your boyfriend been together and how did you meet?
We've been together for nearly two years now. We met the old fashioned way – in a bar! We were the only two in the whole bar drinking water, which created a start to the conversation.
Is he okay with the attention and visibility that comes with winning the title?
Before I participated in Mr. GSA I spoke with him about it first as winning the title would affect his life as well. He has been very supportive with me the whole way, and I am very grateful to him for that. This is the second time that he had to support me in an "election", so he is an old hand at it now! It takes a special man to tolerate all the attention and visibility, but I think we are comfortable enough with the trust in our relationship not to worry about it.
"All human beings can lead happy and fulfilling lives and are capable of being ethical and moral regardless of their sexual orientation…"
And what about your immediate family. Have they also been supportive?
My mom flew up to the finals in Joburg and was cheering the loudest in the front row! Both of my parents have already booked their tickets to the Mr. Gay World final at Gold Reef City in April.
Is marriage something that appeals to you?
Yes, it definitely is. In fact my partner and I got engaged in June. He proposed to me on a trip to New York – on top of the Empire State Building at midnight. It was very romantic!
There's been a lot of debate and criticism on Mambaonline about the fact that so few contestants of colour take part in the Mr. GSA competition. Has that put a damper on things for you?
No, once again, there are always a few that complain. I appreciate criticism when it is constructive, however I haven't seen any constructive ideas from this group as yet. The truth of the matter is that the competition is open to all and that the organisers have been trying very hard to get people of colour to enter, but unfortunately the numbers remain low. I do understand that many people of colour worry about being ostracised in their communities if they are seen to be openly gay. I challenge those that are complaining to go out there and encourage candidates of colour to enter next year!
Do you think our community is working sufficiently hard at addressing the divisions of colour in the community?
I've said before that the LGBTI community is often divided. Whether it be gay/lesbian or black/white – not to mention the lack of 'BTI' representation. I cannot understand why anyone would to further segregate a minority! I've seen similar divisions in other countries, so it is not just a South African problem. The issue of colour particularly is one that is strongly linked to greater society and is perhaps something that will change as South Africans in general become more racially tolerant. Young South Africans are increasingly less aware of race, so my hope is that as new generations mature, so will society. LGBTI organisations should strive to be as inclusive as possible.
What do you believe is the biggest external challenge facing the LGBTI community in SA?
Many straight South Africans still don't accept the LGBTI community and I believe this is mostly due to the religiously-linked rules of society. I think that it will help that some religious leaders like Archbishop Desmond Tutu have spoken in support of LGBTI people, but we still have a far way to go.
And the biggest internal challenge?
South Africans are blessed with a constitution that fully protects their rights, however this has led to a lot of apathy in the South African community, particularly the gay community, as they feel that there is nothing more to fight for. We've seen in the recent Human Rights Watch report that many lesbians and intersex men, particularly those in impoverished townships, are being attacked and abused. Their lives contrast with those of urban, wealthy, often white gay South Africans who have turned parts of some cities into liberal havens. I believe that as the LGBTI community we should stand up as a group to speak out against these types of abuses as together we will have a much stronger voice.
In which way do you think you can play a role in addressing these issues?
I think that continued activism and vocalisation is important. Mainstream South Africa is still very much in the dark regarding the plight of many LGBTI people in SA. I hope to continue to address issues by forwarding them through the correct channels in government so that individual cases can be addressed. I have had much success with this method over the last year and think that with continued efforts the message will spread, even if it's just one person at a time.
In just the first few weeks after winning the title you have already been vocal about a number of LGBTI issues. Do you intend to keep that up?
I've spoken out on LGBTI issues before winning Mr. GSA, however it seems now that the media is more interested in listening. I fully intend to keep speaking out against any injustices experienced by the community.
Is the political arena where you see your future?
Right now I'm happy where I am as my situation helps me to assist many people in my home community as well as LGBTI South Africans. Where the future will take me is anyone's guess, but I hope to stay involved in community issues – both straight and gay. We need to highlight our similarities, not our differences, and at the end of the day we want the same services from government regardless of our sexual orientation.
You've said that Harvey Milk is an inspiration. What about him appeals to you?
I see him as a role model as he was very brave at a time when being openly gay was not accepted, and being an openly gay politician was unheard of. People like Milk inspire me as they are willing to risk everything, even their lives, for a greater good. There are very few people of that sort of calibre in the world.
You've said that you want to be a role model for LGBTI youth. What values or principals do you want to stand up for or represent in your life as a role model?
I think that it's important that LGBTI youth realise that they are all individuals and do not have to prescribe to a stereotype. For example, all some young boys hear is that gay men are effeminate, drug addicts, paedophiles, promiscuous and HIV positive. This couldn't be further from the truth, but without young people being exposed to an alternative they will never know that one existed. All human beings can lead happy and fulfilling lives and are capable of being ethical and moral regardless of their sexual orientation.
Do you think that South Africa's LGBTI youth are sufficiently well-informed or active enough in the issues affecting their community?
In one word – no. There is very little education going to high-school aged children that speaks to homosexuality not being a disease. I do think that life is easier for young people as they have access to the internet which is full of resources, but it's not enough for only LGBTI people to be educated about themselves – if we are going to have acceptance in society straight youth needs to be educated as well.
You clearly have a pretty busy life, what do you do to relax and let your hair down?
I find the gym a great stress reliever and relaxer. Just cuddling on the couch with my man and the two dogs is also great! I do enjoy going out to clubs and bars on weekends.
Catch Lance over the December period at MCQP in Cape Town and the Qc NYE Disco Ball at PLUM in Pretoria.