HEALTH: NEW YEAR, SHMEW YEAR!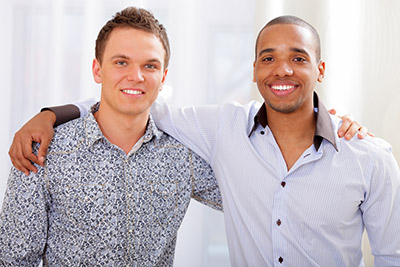 I can't believe it's been a whole year since I didn't become a better person!
Each year, millions, if not billions of us, make New Year's resolutions to help better themselves or to reach our goals and aims. It is of course a tradition – and a tradition in the truest sense of the word – dating all the way back to the Ancient Babylonians, who used to make resolutions to their God for self-improvement.
Such seasonal resolutions often include an emphasis on protecting our health: "I will exercise more, smoke less and cut down on junk food". Personally, I can't think of a better resolution to make than to respect yourself and your partners – particularly in the bedroom. "I promise to bareback less; to use a condom when I'm with a stranger. To go for PEP when I've taken a risk. To cut down on chems and partying. To go for a check-up for STIs…"
New Year's resolutions are made yet very few (if we are honest with ourselves) of us manage to keep those promises we make to ourselves. According to Forbes, a mere 8 percent of people actually achieve their New Year's resolution. A friend of mine joked "I probably shouldn't be making any new resolutions this year…mainly because I'm still working on the ones from last year." Somebody wise said that if we always do what we've always done, we'll always get what we always got. When it comes to sexual health the reality is probably a little bit more complex…
In a recent survey, it was found that MSM HIV prevalence is between two and three times that of the general population Even though one would imagine that men should know by now that condoms can be a good preventative tool against getting or passing on HIV and other STIs, it is estimated that only 40% of men consistently use condoms.
So where does that leave us when we face up to reality? This year, let's resolve to make better bad decisions by being informed and knowing what choices are available when it comes to responsible sex. For example, we could consider "Combination Prevention".
Combination prevention is a strategy of combining two or more proven HIV prevention methods that suit your unique lifestyle. If used properly it will either:
reduce your risk of becoming HIV positive and of contracting other sexually transmitted infections (STIs), or

reduce your risk of infecting your partner with HIV and of preventing you from contracting other STIs if you are already positive.
Combination prevention relies on changing behaviours that might increase the risks of HIV transmission, coupled with technology such as medication, condoms and latex-compatible lubricants to reduce infection risks. No single HIV prevention method is fool proof or provides 100% protection; a combination of methods is best, and there are several options available so that you can find the best combination that works for you.
Reducing your number of sexual partners means less potential exposure to infections. Strange as it may sound, more frequent masturbation can be seen as a valid preventative behaviour for some if it helps reduce their potential risks of exposure. Likewise, some guys use sex toys to curb their regular needs so that they don't feel compelled to cruise for sex partners as often as they might want to.
Avoid barebacking. Unprotected anal sex facilitates the spread of HIV and other sexually transmitted infections (STIs). Avoid having sex while using drugs or alcohol so that you make responsible decisions regarding your health. If you inject drugs never share needles with someone else. Consider negotiating an open relationship rather than cheating on your partner, and develop a plan that ensures you both remain healthy. Stick to the agreed plan.
Sero-sorting is a strategy of only having sex with people with the same HIV status as you. A problem is that you cannot be sure of anyone's HIV status; many guys have not been screened and just assume they are negative. Sero-sorting often works best for HIV positive guys who are networked with other positive guys. Sero-positioning is choosing your role during anal sex according to your HIV status- An HIV positive guy will be the bottom during anal sex with an HIV negative partner to prevent the semen of the positive partner entering the anus of the negative partner if the condom breaks.
Condoms and compatible lubrication remain your best defence against infections. Find a condom brand you like or use female condoms for anal sex. Water-based lubricant is safe with condoms but should not be used without condoms as it may irritate the lining of the anus and increase the risk of HIV and STI infection if you bareback. STIs that cause sores create an opening which allows entry of HIV. Get screened for STIs every six months.
Post-Exposure Prophylaxis (PEP) is a strategy of HIV-negative guys taking antiretroviral (ARV) medication for 28 days if they have been exposed to the virus in order to reduce their chance of becoming positive. Pre-Exposure Prophylaxis (PrEP) involves HIV-negative guys who are at risk of repeated exposure to HIV taking ARV medication long term and before the possible exposure takes place. PrEP is not available in public sector clinics.
Treatment as prevention (TasP) involves treating HIV positive men with antiretroviral drugs to lower the amount of HIV in their bodies and thus in their blood and semen, reducing their risk of infecting a partner.
Whatever works for you, remember that consistent use of condoms and appropriate lube should form the basis of any prevention strategy.
For more information regarding combination prevention visit www.health4men.co.za or h4m.mobi on your cell phone.
Health4Men is campaigning this Valentine's Day and Condom Week (February 10-16) by handing out free red condoms, providing HCT services and STI education in Gauteng, North West, Mpumalanga, Limpopo and Western Cape. For a full list of the venues visit their Facebook page.
Riaan Norval is the media coordinator for Health4Men. Health4Men is a project of the Anova Health Institute NPC which is funded by PEPFAR through USAID, that provides sexual health services for men who have sex with men.