A QUEER UNDERSTANDING OF COMMUNITY?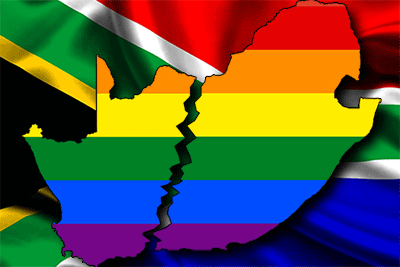 It should come as no surprise that South Africa's lesbian, gay, bisexual, trans and intersex community is stratified along similar race and class lines as the rest of South African society.
The big umbrella that is the LGBTI term actually falls short of being big enough to cover white gay men in suburbs on one side and black lesbian women in townships on the other — for example. Class and race divisions cut deep into the heart of this community, and people on the one side — and one side in particular — of this umbrella are getting wet because of it.
There have been several events that bring this divide within the "community" sharply into focus; not least the violent clashes that occurred between black lesbian activists and mostly white Joburg Pride goers in 2012. But the events of the last two weeks have shown that when it comes to interests and shared experiences, this can only be called a community in abstract terms. The reality is that there is no central concern or unity in this grouping — a grouping lumped together on the basis that they deviate from the heterosexual norm.
In the past two weeks the Kilcairn Farm wedding venue in the Riebeek Valley reportedly denied a lesbian couple the right to host their wedding there because they were same-sex.
This so roused the spirits of the LGBTI community, that the Kilcairn venue abandoned its online presence within a matter of hours — the Twitter and Facebook pages and business website were taken down. The denial of the couple's rights has been reported on widely and received attention from the SA Human Rights Commission. The online backlash was so strong that another story had to be published asking people not to attack innocent parties named in the article and even those who had similar names to guilty parties named.
While one section of the community was fighting against discrimination on one side of the Western Cape, a grotesque hate crime was allegedly taking place in Ceres. Here, a 21-year-old man was allegedly tortured before being beaten to death. The man who killed him had allegedly invited a group of nearby teenagers to come and watch him kill a moffie. The group duly complied and watched the murder – only informing someone of this attack the following day.
This delay and the compliance of the onlookers points to the reality that some members of our society aren't seen as worth anything — they don't need your protection, and you don't want to give it to them because they aren't the same as you. This whole incident indicates the violence of heterosexism, of a culture of homophobia that exists among straight South Africans.
While middle-class liberals and queers took on the actions of a wedding venue, a member from a different section of this community was having their skull bashed in while the world looked on. In fact, the homophobic South Africans involved in that attack (and this more recent hate crime) represented more of a political community — unified in the act of homophobic hatred — than the LGBTI community itself.
Aside from the fact that the heterosexual world is by and large complicit in the continued assault on the dignity of people who identify as LGBTI, the community itself devalues its political fight for equality by allowing for class and race divisions to take hold.
Where one section is fighting for their rights on paper and another is literally fighting for its life, does it stop being helpful to refer to this as a "community" — a political grouping united in action against homophobia? In the same way that it is unhelpful to speak about women or black people as having shared interests, is it time to acknowledge that LGBTI people in South Africa are not a collective?
There is a deep need for collective action and a politicised war against the daily oppression of LGBTI individuals in this country. But the LGBTI community in South Africa is more of a group united in its deviation from a standard determined by a straight, male world, than a group united in the fight for equality. This collective isn't supporting itself; it's supporting certain sectors of the community and that just defeats the entire point of collective action for equality.

This article was first published by Thought Leader.