DURBAN PRIDE TO MARK 20 YEARS OF LGBTI RIGHTS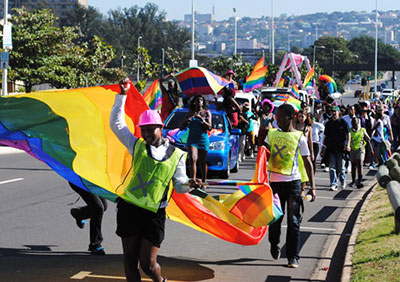 Durban will be commemorating 20 years of LGBTI rights this June with the annual Durban Pride Liberation March and Festival.
According to the organisers, the event "will raise the international gay flag to mark the commemoration of lives lost and the celebration of life, of diversity, the right to sexual orientation, to sexual and gender identity."
The week long commemorations will run from Sunday 23 June to Sunday 29 June with the march taking place on Saturday 28 June, at Sharks Stadium.
The official programme includes: a film night (Thurs 26, 6pm @KZNSA Art Gallery, Glenwood); Miss Gay Durban & Pre-Pride Party (Fri 27, doors open at 9pm @The Lounge, Stamfordhill Rd); the flag raising ceremony, liberation march and festival (Sat 28, 10am – 10pm @The Sharks Stadium, Morningside); the after-parties (Sat 28, 9pm, @The Lounge and the Pink ShisaNyama, Sun 29, 12pm @ Eyadini, Umlazi Township).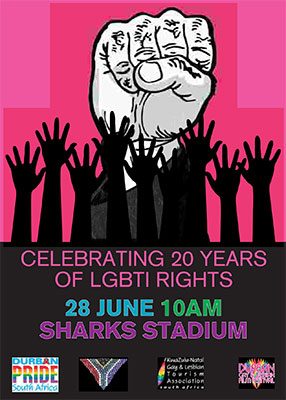 Durban Pride runs concurrently with the Durban Gay & Lesbian Film Festival, hosted by the KZN Gay & Lesbian Tourism Association at the KZNSA Art Gallery (more details here).
"With a theme like 20 Years of LGBTI Rights, Durban Pride 2014 aims to walk participants down memory lane as to where we come from and where we are with the struggle for equality, for dignity and for freedom," commented the organisers, the Durban Gay & Lesbian Community & Health Centre, in a statement.
"We will remember the good and the bad moments in time, the comrades that have fallen but also ordinary members of the rainbow LGBTI community," they added.
For more information visit the Durban Pride website or Facebook page.