GAME RANGERS GO NAKED TO SAVE THE RHINO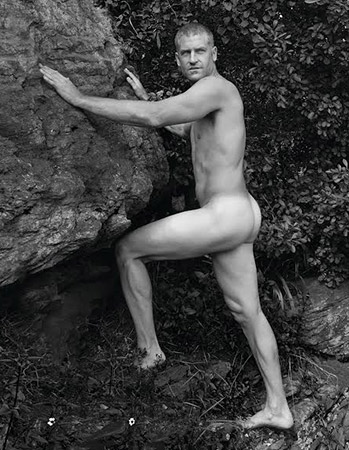 A calendar of naked game rangers has been released to help in the fight to save the endangered rhino from extinction.
Cape Town's Natural Causes and former-supermodel turned South African photographer Josie Borain have created the Rangers for Rhinos 2015 Calendar to support two NGOs, the Game Rangers Association of Africa and Resource Africa, both involved in anti-rhino poaching projects.
This 'naked for a good cause' calendar will be the first of a series of annual Rangers for Rhinos Calendars, say its publishers.
Think 'Calendar Girls', and then think game rangers. The calendar features men prepared to step out of their clothes and out of their comfort zones to help raise awareness of the crisis facing the rhino.
The models are actual game rangers from around South Africa and Botswana who volunteered to pose naked for the cause. The photographs includes the rangers, naked but not totally exposed, in various poses to create a sexy, arty and humorous feel.
Along with the photographs of the rangers, the calendar includes text about the plight of the rhino and the experience of rangers on the frontline of the rhino wars.
"I used to see some of the [social media] posts about rhinos in pain after having their horns hacked off – terrible photographs. Over time, I realised that I cared. But by just liking or commenting on something on Facebook, it wasn't really achieving anything," said Borain.
"Rhinos aren't a cute, cuddly little dog or kitten that's been abused. It's in people's nature to help something so sweet. While the rhino is a majestic, beautiful creature, he's not that cute, cuddly little thing. So they're often at a disadvantage."
Lee Dicks, one of the rangers included in the calendar (May), said he's proud of his decision to volunteer to take it all off. "It was an absolute honour to be involved in this and I urge those who 'dare to bare.'"
The first print run was sold out but the calendars should again be available in stores for sale for R150. To purchase a copy online, visit the Rangers for Rhinos Facebook page or email nicolamonro@gmail.com.