Ugandan tabloid outs gays at Pride "sex fest"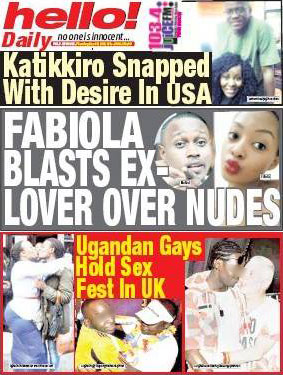 A Ugandan tabloid has published photos of gay Ugandans celebrating Pride in Birmingham, describing the event as "a sex fest".
The pictures of exiled Ugandan LGBT activists from the Out & Proud Diamond Group were splashed on the front cover of Thursday's edition of Hello Daily.
A number of African and Commonwealth LGBT activists marched in Saturday's Birmingham Pride parade, protesting against homophobia in Africa.
One of the pictures published by the tabloid shows a same-sex couple kissing while others are seen embracing.
The accompanying headline reads: "Ugandan gays hold sex fest in UK."
Not only do the pictures and headline perpetuate the idea of gays and lesbians being sexually obsessed or perverted, but they also effectively outed the activists in their homeland, where they could be jailed for life.
Tony Kitara, one of the activists in the pictures, was defiant, telling Gay Star News: "I am proud that the people of Uganda have now seen the life I am enjoying as a human being."
He added: "Even though my picture has been beamed all over Uganda, I am proud that I am playing my part in raising awareness."
The Ugandan media has a history of revealing the identities of LGBT people without their knowledge or permission, effectively placing them in danger of harassment, persecution and even violence.
Since 2006, the Red Pepper tabloid, the most notorious offender, has outed gays and lesbian in its pages, often revealing private information, photos, and places of residence and work that would easily allow them to be found.