Exclusive: A first as the gay flag flies over all of Africa
In what's believed to be a first, the LGBT rainbow flag has made it to the top of Kilimanjaro, the highest spot in Africa.
On Monday, openly gay South African Herbie Aucamp reached the summit of the 5,895 metre high volcanic mountain in Tanzania.
It was not just the culmination of a deeply personal challenge, but also a celebration of his father's 60th birthday, and a statement in support of the continent's LGBT community.
Aucamp, who runs a tourism business called AfricanFlamboyance, told Mambaonline from Tanzania that the moment he held up the flag was an emotional and contemplative experience.
"When I started dreaming of doing Kilimanjaro one day, I always had the idea of proudly flying the gay flag at the summit, but I never thought I could well be the first one to do it," he said.
He explained that his six day trek up to Uhuru Peak, the mountain's summit, was born out of a "love for the continent and its people."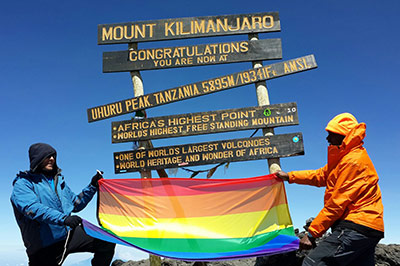 "We have to lead by example and show [heterosexual] people in Africa that we are fellow human beings who might love in a different way, but love is love, and it is no different from what they feel," Aucamp said.
He hopes that not only will his symbolic gesture add to the growing movement towards LGBT equality in Africa, but that it will also inspire foreign LGBT travellers to venture out of their comfort zone on the continent.
"Little by little I know we can make a positive move to change perspectives and to overcome the limitations that have been set out by religion, culture and laws that often hold the continent back," said Aucamp.
According to Human Rights Watch, 36 African countries have laws on their books that criminalise same-sex conduct.